In a scenario reminiscent of an assembly script, MTHS mascot Herky is missing. The beloved hawk costume, donned regularly by senior Bailey Bame, was stolen prior to the football game against Shorewood H.S.
"The last time I saw Herky was at the [Edmonds School District 5K Fun Run] going on at the mall. I put him in my car and now he's disappeared," Bame said.
Bame took over the role of Herky last year and has performed at various athletic events and pep assemblies. He was shocked and disappointed to lose the costume.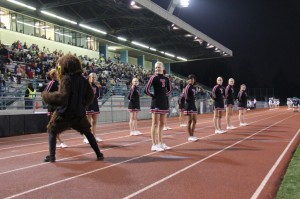 "I was freaking out. I went to the game just to see if anyone was going to be in the suit and I could tackle them," Bame said.
At the game, Bame cheered without the costume along with the cheerleaders. Despite the heavy rain that night, he continued to keep a positive attitude and delighted the fans in attendance.
"I heard from one of my friends at Lynnwood that they heard about it but she didn't know who took it though. We're just going to have to wait to get a new one because no one is going to tell me," Bame said.
Bame and Athletics Director Kim Stewart have discussed plans to purchase a new Herky costume to replace the missing one.
However, it will take some time until the new Herky is unveiled.
Story continues below advertisement