Drumline wins big after annual Celebrate Schools 5K
[vc_row][vc_column][vc_column_text]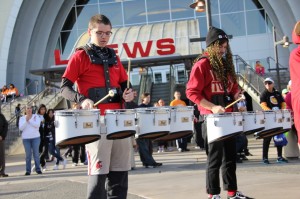 The MTHS Drumline concluded the Celebrate Schools 5K run with a bang when they inspired the loudest cheer of the crowd, winning the Battle of the Bands competition and $500.
The competition featured Drumlines from four high schools: Mountlake Terrace, Meadowdale, Lynnwood and Edmonds Woodway. Many Terrace supporters, as well as the cheerleaders, showed up to the event to support the band and school.
The Drumline boys practiced hard leading up to their performance, starting the day that band teacher Darin Faul announced that they would be competing in the Battle of the Bands.
"We have all been practicing a lot for this," bass drummer Caleb Sill said.
The Battle of the Bands was the ending highlight of an even bigger event: the annual Celebrate Schools 5K run. This event's purpose is to raise funds in support of the students and classrooms in the Edmonds School District.
Though the high school Drumlines have always been affiliated with the event, this was the first year there was a Battle of the Bands. The Battle of the Bands will probably continue in years to come, according to Edmonds Public Schools Foundation Executive Director Deborah Anderson.
[/vc_column_text][/vc_column][/vc_row]