The Edmonds School District selects two students each month to each of the high schools to recognize their accomplishments and achievements. Go to the ESD website for the complete list and information for the January 2014 students of the month.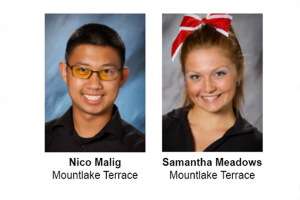 Student Name: Samantha Meadows
Mother's Name: Kristy Meadows
GPA: 3.57
Clubs and Activities: Project Unify, 2011-2014; Key club, 2011-2013
ASB: I've been involved in the cheer portion of ASB since sophomore year.
Athletics: I have cheered for my high school sophomore to senior years.
I cheered for George Welch Elementary School for two years in West Monroe, La.
Athletics: I played soccer all through elementary school. I played recreational volleyball through middle school. I danced (ballet, lyrical, etc.) for 12 years, from age 3 to 15.
Awards: I received a leadership award through the NCA Cheer Camp in the summer of 2013.
Culminating Project: My senior project is based on learning a new skill—to become Lifeguard Certified.
Future Educational Goals: I hope to graduate from a four-year university. I haven't yet decided where to go because I am not sure if I want to stay in Washington or go out of state for college.
Future Career Goals: I hope to find myself somewhere in the field of broadcast journalism.
Anything else we should know? I grew up in West Monroe, La. where the very popular TV show Duck Dynasty is filmed. This past Thanksgiving, I and three of my friends on cheer (Marissa Mason, Sarah Smith, and Brittany Kinsella) were in the Macy's Thanksgiving Day Parade in New York City!
Student Name: Nico Malig
Mother's Name: Mel
Father's Name: Ruel
GPA: 3.92
Clubs and Activities: President of Honor Society ; Robotics
ASB: Secretary of the Class of 2014
Athletics: Tennis and golf
Honors: Student of the Month, January
Awards: Varsity Tennis letter
Community Service: Honor Society service projects; various ASB fundraisers and service opportunities
Culminating Project: I am developing a school computer application.
Current Employment: Geek Squad Customer Agent at Best Buy in Lynnwood
Future Educational Goals: I hope to attend MIT, my dream school, but I've applied to numerous high-ranking engineering and science schools, including Carnegie Mellon University and the University of California at Berkeley. I wish to pursue a graduate degree, likely a master's degree in computer science.
Future Career Goals: Ever since I was in elementary school, I knew I wanted to work with technology when I grew up. This aspiration has pretty much stayed the same throughout my life so far. I wish to work at a well-known electronics and computer company like Apple or Google, developing the latest gear and technology.
Anything else we should know? Thank you for choosing me as a January Student of the Month!
Story continues below advertisement