The Edmonds School District selects two students each month to each of the high schools to recognize their accomplishments and achievements. Go to the ESD website for the complete list and information for the March 2014 students of the month.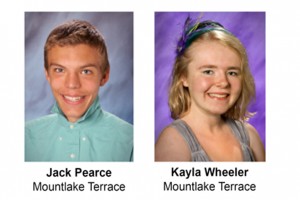 Student Name: Jack Pearce
Mother's Name: Ann Pearce
Father's Name: Tom Pearce
GPA: 3.75
Clubs & Activities: I participate in Key Club, cross-country, ASB, Link Crew, Mix-It-Up, Track & Field, Black Student Union, National Honor Society, Rowdy Rooters and am a counselor at the First Swing Foundation.
ASB: I have been a Class of 2014 Representative from the end of my freshman year throughout the rest of my high school career.
Athletics: I have competed for the cross-country and track & field teams for the past four years. I have been a captain on the cross-country team for two years and am a captain in track & field this year. While I have been on the cross-country team, we have won the 2012 Wesco league meet and finished 10th in the 2013 3A State Championship Cross-country Meet. In 2013, the track and field team won both our Wesco league meet and our District 1 meet. Individually, I have qualified for the cross-country state meet three times and the track & field state meet once in the 3200 meter race, I hope to qualify for the state meet again before the academic year is over!
Honors: In December, 2013 I was named a "Super Kid" by the Everett Herald, an honor given to one student at each school. I was also named one of the four Mountlake Terrace 2014 Scholar Athletes of the year. This distinction is given to four students from each high school in the Edmonds School District that are selected by their school's teachers. In April, I was named the Mountlake Terrace male student of the month for April, 2014, which is awarded by the Mountlake Terrace High administration.
Awards: In August I was awarded the AP Scholar Award, an award given to students who score a three or better on at least three AP tests.
Community Service: I am a member of the Mountlake Terrace Key Club, whose goal is to be "A student led community service organization." In Key Club we have had annual food, toiletry, glasses and stuffed-animal drives to support our community with these supplies. I have also volunteered with the First Swing Foundation for the past six years as a counselor. The First Swing Foundation was established with the goal to "teach children the fundamentals of baseball and life." These fundamentals range from fielding groundballs to teaching the values of discipline, integrity and respect in baseball and life.
Culminating Project: I am creating and directing a fun run at Mountlake Terrace High School on May, 10. I hope to create a fun community event through running that people throughout the area can enjoy while practicing a healthy lifestyle.
Current Employment: I am currently employed by both the Snohomish County Basketball Officials Association and the Boys and Girls Club of Snohomish County Alderwood chapter as a basketball official. I officiate games ranging from second graders learning the basics of basketball to junior varsity level in high school. Through officiating I have strengthened my communication abilities not only on basketball courts but in every situation.
Future Educational Goals: Next year I will be attending Gonzaga University where I will study nursing and hopefully earn my bachelor's degree in four years. After that I hope to go on to the University of Washington and earn my master's degree in nursing.
Future Career Goals: I hope to become a registered nurse and work with patients in hospitals and one day become a nurse at Seattle Children's Hospital.
Anything else we should know? Good is the greatest enemy of great!
Student Name: Kayla M. Wheeler
Mother's Name: Joyce Wheeler
Father's Name: Dean Wheeler
GPA: 3.76
Clubs & Activities: FIRST Robotics, junior and senior year. I was team captain, project manager and vice president; TARC (Rocketry), two years. I served as treasurer then vice president;
Drama as a freshman; I served as club member and soloist in the spring musical, "Back to The 80's."
Athletics: I've been a Paralympic swimmer since 2007. I participated in three world championships.
Honors: National Society of High School Scholars member; Honors English 9; Honors Biology; Honors Geometry; Honors World History; Honors English 10; Honors Algebra 2; Honors: Pre-Calculus; AP Biology, AP European History, AP Calculus; Running Start my junior and senior years.
Community Service: Madrona Children's Theater, freshman through senior years. I contributed 90-plus hours each year; tutoring four hours weekly in Algebra 1 class my junior and senior years; Assistant Coach one hour a week of a pre-K through sixth grade swim team since I was in sixth grade; two hours weekly as assistant coach of a Special Olympics team my Senior year.
Culminating Project: Running Start Culminating Project class
Future Educational Goals: I want to attend law school but am unsure of specific majors. I'm considering one or more of the following: Spanish, Psychology and Politics/Government.
Future Career Goals: Bi-Lingual Disability Rights Lawyer
Story continues below advertisement