The Edmonds School District selects two students each month to each of the high schools to recognize their accomplishments and achievements. Go to the ESD website for the complete list and information for the November 2013 students of the month.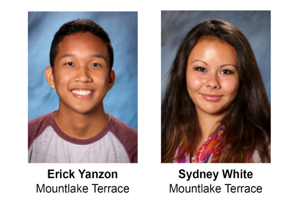 Student Name: Erick Yanzon
Mother's Name: Remy Yanzon
Father's Name: Roque Yanzon
GPA: 3.53
Clubs & Activities: Hip Hop Dance Team: member (9,10), Captain (11,12); The Hawkeye: staff writer (10), Web Manager and Editorial Board member (11,12); SPIRIT Council (10,11,12); Key Club (10,11,12); National Honor Society (10,11,12); Link Crew (11,12).
ASB: Leadership (11); MTHS Interhigh Representative (12)
Athletics: Hip Hop Dance/Drill Competition (10,12)
Honors: Advanced Placement classes: European History(10), Chemistry(10), US History(11), Language and Composition(11), Calculus(11), Government(12), Statistics(12), Psychology(12); Top 25 percent class rank; Hawkeye Most Valuable staff member, 2013
Awards: JEA Spring 2012 Online News Package: Honorable Mention (10); JEA Spring 2013 Online News Package: Excellent (11); Alderwood-Terrace Rotary November 2012 Student of the Month(11); CTE Leadership and Achievement Award(11)
Community Service: Mountlake Terrace Library Book Buddies; MTHS Food Drive
Culminating Project: Multicultural Week: Raise students' awareness and involvement about the cultural differences and diversity at MTHS.
Future Educational Goals: I plan to major in education/counseling or psychology and minor in communications
Future Career Goals: I would like to become a social worker, counselor or teacher and hopefully come back and work at MTHS someday.
Anything else we should know? I've only been in the country for a few years. I moved from the Philippines my freshman year. It was hard getting used to the culture and norms and trying to fit in, but I did it. I started getting involved my sophomore year to the point that I was overwhelming myself. It was a difficult year, switching from ELL to AP classes, and actually figuring out who I really was. And I thank everyone that helped me get through it all, and guided me on my way.
Student Name: Sydney S. White
Mother's Name: Julie White
GPA: 3.69
Clubs & Activities: ASB, golf, yearbook, Project Unify.
ASB: Vice President
Athletics: Golf
Community Service: Brier elementary volunteer; internship at city of Mountlake Terrace.
Culminating Project: college application portfolio
Current Employment: Lead hostess at Claim Jumpers
Future Educational Goals: George Washington University
Future Career Goals: politician; White House adviser; city manager; non-profit organizer; event planner
Story continues below advertisement