Hilarious Hellcats get the crowd howling, win the Hogan Cup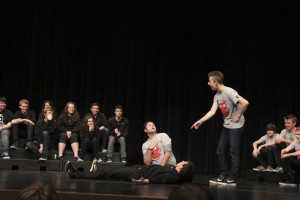 On Wednesday night, the MTHS theater sports team Hellcats hosted and faced off against Inglemoore HS in the Hogan Cup, an improvisation competition created to challenge drama students.  This is an intense competition where the teams act out difficult improvisation skits to make the audience laugh and earn points using suggestions from the audience.
"We've been a team since the end of last year, doing fun semi-bonding exercises," senior Haley Martin said.
"Our team has been meeting for the past two or three weeks, and staying here until 6:00 p.m. one day or even 8:00 p.m."
Team building exercises and games are key for their cohesiveness on stage, making sure that the audience isn't lost while they perform. They hone their skills using C.R.O.W.
"C.R.O.W stands for character, relationship, objective, and where," Martin said. "We have to practice that over and over again because you have to be ready for anything and make a story out of anything."
This competition was divided into three sections consisting of an introduction round, three scored rounds, and lastly a finale, where all members of both groups participate in a final sketch. The scored portions of this event were analyzed by a panel of professional judges on a scale of one to five in three categories: content, overall enjoyment, and presence.
The final score was 54 to 52, the MTHS Hellcats taking the victory by only a slight margin. Myles Stillwaugh, another senior on the MTHS theatre sports program, had great things to say about Inglemoore.
"Inglemoore is one of our favorite schools to compete against, we have a lot of friends over there," Stillwaugh said. "The night wouldn't have played out any different if we had lost, we still would have gone out and had dinner at Red Robin."
Theatre sports is an inspiring pursuit of what people love combined with a competitive edge that keeps it interesting. Although competitive, the drama students all share camaraderie even between rivals because they are all there to have fun.
Leave a Comment
Your donation will support the student journalists of Mountlake Terrace High School. Your contribution will allow us to cover our annual website hosting costs and assist students in need so they can attend state, regional and national conventions.