After moving to Mountlake Terrace from Dallas Texas, junior Fullback Malcom Johnson is helping a struggling football team to get back on track.
Jonson spent his first two years of high school playing for the Berkner High School Rams in Richardson, TX. Johnson started at fullback his sophomore year, rushing for 158 yards and scoring three touchdowns.
According to Johnson, he has been playing football for 11 years, scoring his first touchdown when he was 8. After deciding he wanted to play football as a six year old, his dad signed him up, and he has been playing ever since.
Unfortunately, Johnson had been unable to play so far this season due to a lack of practices.
Story continues below advertisement
He played his first game against Everett in last Friday's 28-13 win, rushing for 34 yards on 12 attempts. Johnson was happy with the team's overall performance and felt that he ran the ball well.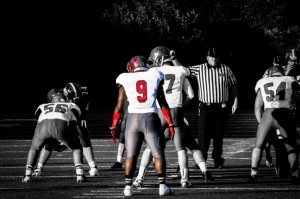 When asked about his individual performance, he thought he had a pretty solid game. Johnson also said "I need to come a little bit harder Friday."
Although many see this week's game as quite a challenge for Terrace, Johnson said, "We are coming out with a win."
Johnson looks to help the Hawks prevail in a few ways. "I'm going to stay on my assignments. If I do my part, and believe that everybody else is going to do their part, then we're going to win."
Johnson seems happy playing for the Hawks, saying that he felt comfortable on the team and enjoyed playing for Coach Tony Umayum.
"From the first day they welcomed me in, it felt like home. With the team's chemistry, we just gelled together."
Speaking to MLTNews.com, Umayam said, "It's nice having him back. Johnson is not only comfortable playing for the Hawks, but he is confident in their abilities. "We're going to the playoffs."
This Friday, the Hawks will be playing their second district game of the season (the first being a 0-31 loss to Glacier Peak). The Hawks will be the away team coming into what will most likely be one of the hardest games of the season against the Meadowdale Mavericks. The 4-1 Mavericks, ranked 48th in state, will provide quite a challenge for the 2-3 Hawks.
Kickoff is at 8:00 p.m., this Friday at Edmonds Stadium.