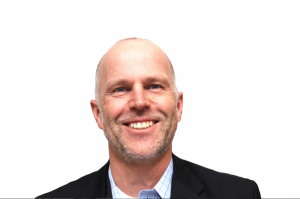 As the new school year in full swing, new MTHS 'interim' assistant principal Dan Falk has taken on the role of former assistant principal Scott Morrison, who accepted the position as an interim principal for College Place Elementary.
Falk, who has been an educator since 2001 and has been at MTHS since 2002, spent most of those years as a humanities teacher for humanities 11 and humanities 12.
"About a month ago, I was out literally washing coolers, cleaning up after a weekend of fishing and getting ready to go do more fishing, when Mr. Schwab called me and told me that Mr. Morrison had taken the job as the principal of an elementary school and asked if I would be willing to take on the role of being an assistant principal for the year," Falk said. As an interim assistant principal, Falk is on a one year contract.
Falk attended Danforth Educational Leadership Program at University of Washington. He went through the principal preparation program and took his internship at MTHS, where he worked as an administrator three years ago.
"It was a big surprise. But I'm ready for the job. I can do the work. I'm ready for a challenge." Falk added, "I've been really grateful that my colleagues, the teachers here in the building, have been really supportive- telling me that I'm doing a fine job. I'm really glad for that."
At the end of the 2013-2014 school year, Morrison, who is an interim principal, could come back to MTHS if he decides to or if CPES searches for another principal; while Falk would have to go through a regular application process if he intends to keep his current job at MTHS. Despite being part of the administration, Falk still has his teaching contract on hold, which means that he is still able to come back as a teacher next year.
Falk is currently involved in designing a structure for a new evaluation system for teachers.
"Teachers are now going to be evaluated on a 1 to 4 scale, with one being basic and four being distinguished. Similarly to the way the students are assessed in good writing class or classroom where you're assessed with a rubric…we're going to be looking at student growth as a measurement of the teacher.  The work the students produce in the classroom is going to be one of the ways that we measure teacher effectiveness," Falk hinted.
"My classroom was a very positive place and it's a challenge now to be in a role where discipline is part of my job… And if my job is not making kids successful, then I don't want it. The work I'm interested in is help kids lead successful lives after high school, that's having a positive impact on their lives after school," Falk explained.
Story continues below advertisement
"I want kids to smile at me. I want to have the kinds of relationship where we smile at each other," Falk added, "I don't want to have the kind of relationship with students at the school where they're avoiding eye contact with me in the hallway. Kids knowing me by name, that would be nice."
Falk finds hiring a new humanities teacher exciting, noting that Erin Grambush, the new humanities 12 teacher, would do an 'exceptional job.'
"My least favorite part is that I have homework to do…It's really important work, I value the work, but heck, I'd rather be doing something else in the evening like sailing or fishing," Falk admitted.
With the new job, excitement comes with longing. Falk said, "[I miss most] that relationship with kids. Kids in my classroom… I've just had a spectacular two years. The students who graduated in 2013, most of them were in my humanities class in 2011, 2012. I worked with them for two years in a row…Chris Ellinger and Steve Merlino have been my partners in teaching humanities for several years, that relationship is different. I'm going to miss that, too."
"I would really like kids to know that it's important for me to have a positive relationship with the kids at this school. I just want to be a part of helping make Mountlake Terrace be a great place," Falk finished.