The Edmonds School District selects two students each month to each of the high schools to recognize their accomplishments and achievements. Go to the ESD website for the complete list and information for the April 2013 students of the month.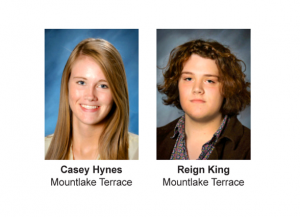 Student Name: Casey Hynes
Mother's Name: Leslie Hynes
Father's Name: Richard Hynes
GPA: 3.99
Clubs & Activities: Key Club, Project Unify, Mix It Up, Link Crew
Athletics: Volleyball (captain)
Awards:110% Volleyball Award (9), Coach's Volleyball Award (11), MVP Volleyball Award (12), Coach's Volleyball Award (12), All-Wesco 3A South 2nd Team Volleyball
Community Service: I've done a lot of community service work with Key Club, including a toiletry drive, a glasses drive, making blankets for patients in hospitals, and collecting Christmas presents for local families in need.
Culminating Project: I planned and hosted a 4 vs. 4 volleyball tournament that included players from around the Edmonds School District and other school districts.
Future Educational Goals: I'm going to Washington State University and I hope to get an MBA.
Future Career Goals: Marketing, business, or entrepreneurship
Student Name: Reign King
Mother's Name: Erin King
Father's Name: Henry King
GPA: 2.8
Clubs & Activities: I play bass in the jazz 1 group. With the school's band I've had the opportunity to perform in New York and on the stage of the Paramount Theater. I gig with several bands outside of school including a jazz quartet and a funk fusion group called Contrmpo. Recently I've also been honored with the opportunity to speak at graduation.
Awards: Last year at the Essentially Ellington band competition my fellow rhythm section members and I were awarded with an outstanding rhythm section award.
Culminating Project: I'm currently in the college application process. I have been accepted to Cornish College of the Arts and Berklee College of Music, both with scholarships.
Current Employment: I'm currently a professional musician. I gig weekly with a jazz quartet made up of several students from MTHS, a Funk fusion group made up of students from MTHS and students from Redmond High. I also play with a Frank Zappa cover band (I'm the only member under 40).
Future Educational Goals: I'm planning on attending Berklee College of Music in the fall to pursue a bachelor's in music.
Future Career Goals: I hope to finish college and use my degree to pursue a career in music. I hope to continue gigging and record. I'm also planning on apprenticing in instrument repair and design.
Anything else we should know? I'm very honored to receive this award and would like to thank all who nominated me. I'm very proud of this school and the community that surrounds it. This school has given me opportunities that have changed my life and made me a better person.
Story continues below advertisement