Student behavior coordinator position instated
By Hawkeye Staff
November 7, 2010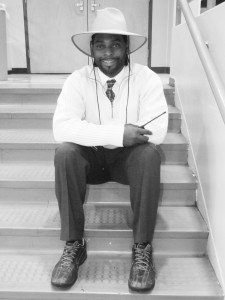 With the school's campus resource officer lost to budget cuts, an addition was made to the school – Anthony Williams, the new student behavior coordinator.
A student might find Williams walking around the school, monitoring the halls, or taking care of referrals in his office. Before working at Terrace, 35-year-old Williams was a teacher at a middle school in Nebraska, as well as a behavior disorder teacher at Seattle's Ingraham High School.
Last year, he worked as a behavior disorder teacher at Edmonds Woodway High School. Williams works with kids who may have emotional behavior disorder backgrounds and meets with kids who get referrals to counsel them into getting back on track.
"The door is open if anyone wants to talk to me about anything," Williams said.
Last year, the Edmonds School District had school resource officers – police officers who were placed at high schools as their duty station. Officer Heidi Froisland had been at MTHS assisting with campus safety and supervision as the school resource officer for four years, but due to district budget cuts she and all but one of her fellow officers were released.
Williams, however, is not a replacement for Froisland.
"The two are really mutually exclusive," Principal Greg Schwab said. "We didn't hire Mr. Williams because we were losing Heidi. When we lost Heidi, it really became more important then ever that we hire a behavior coordinator like Mr. Williams, just because we have been without one for so long." In fact, Terrace has been the only high school in the district without a behavior coordinator until now.
Williams is at school everyday from 9 a.m. to 2:30 p.m., except for Tuesdays when he is at school from 7 a.m. to 12:30 p.m.
"There's going to be some kids who are going to hover in this office a lot because they just make bad choices," Williams said. "My goal is to, year by year, hopefully this year, help them make better choices so they're not here very often. So, at the end of their three, four years, however long they're here, they're like, 'Thanks for leading me in the right direction' rather than just slapping (them) on the wrist and saying 'You got detention – now get out of here,'" Williams said.
Although Williams is in charge of giving detentions and dealing with referrals, he enjoys working with the students and school administrators.
"The school's a pretty good school. The kids pretty much like each other; they respect each other," Williams said. "I've been to five schools in my life, and that was the best [back to school] assembly I've been to. And it's not because of what was going on in the screen – it was what was going on in the crowd."
Lynnwood High School retained its campus resource officer because the new campus is in unincorporated Snohomish County and response time to 911 is slow since there is no police department in that area.
Eliminating campus resource officers at the other three comprehensive high schools saved approximately $70,000 per school.