TK Tuesdays: the Willits behind Willits Wednesdays
By TK Johnson
March 25, 2014
[vc_row][vc_column width="1/1″][vc_column_text]
You may know him from his weekly online column in the Hawkeye or the play-by-play announcing on the Sound Live Sports Network, but do you really know Steve Willits?
Steve was a 1991 graduate of Mountlake Terrace. He was involved in sports as a student, including football and basketball, where he was the starting point guard and captain of the junior varsity team his junior year. His starting shooting guard was current MTHS baseball coach, Andrew Watters. The head coach of the team was Nalin Sood, who at the time was 21 years old and starting his first year as head JV coach.
The team went 4-16 that year. Steve mentioned how he and Sood always joke about how he (Sood) had nowhere to go but up from there.
"I'm glad that our inept basketball abilities didn't persuade him (Sood) to get out of coaching, because he has gone on to do some magnificent things at Terrace," Willits said. "I am proud and fortunate to consider him (Sood) a good friend."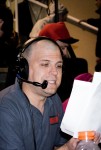 During Steve's time at Terrace, he was also a member of the Hawkeye. His senior year, he was the Hawkeye Staff Member of the Year. Another noteworthy award that Steve received was the "Most Talkative" in his senior class.
"I guess when you take both of those recognitions into account, it hasn't really surprised too many of my longtime friends and family members that I would return to my alma mater to be the play-by-play announcer for sporting events," Willits said.
Back in 2012, when HBN (Hawk Broadcasting Network), Hawkeye and MLTNews joined efforts to begin  broadcasting football games in the fall, head coach Tony Umayam had mentioned to Steve that he (Steve) should get involved in the broadcasting. Umayam had suggested that advisers Angelo Comeaux, Teresa Wippel and Vince DeMiero talk to Steve. The rest, as they say, is history.
"We (Tony and Steve) played football together at Terrace, and have remained friends over the years," Willits said. "I had been going to most of the Terrace football games since Tony became the head coach 10 years ago, so getting me to commit to Friday nights in the fall was easy, since I was already planning on being there."
Before SLSN, Steve didn't have any experience in broadcasting, however he had done public speaking and never shied away from an audience. Steve had been involved with sports for most of his life and had a few rare opportunities working in sports for the Seattle SuperSonics when he was 14 and worked for them up until the day that they left town. He even moved to Oklahoma City for one year to work with the Thunder.
"I actually didn't mind OKC (Oklahoma City), but I missed my family and friends," Willits said. "I came to the realization that I can live without basketball in my life, but my friends and family are what matter the most for me. I'm thankful for the experience of living in another part of the country for that year, but it made me realize how much I love my Seattle community."
In total, Steve worked for the Sonics organization for 22.5 years as a Promotions Crew Manager. He was responsible for hiring and staffing a 30-person crew, mostly of high school and college students on game nights
Steve also became mascots for several different Seattle-based teams. He was the Mariners Moose for the 2nd half of the 1997 season, and would fill in for appearances up until 2000. That, of course, might be another story in itself. He was the mascot for the Seattle Reign (Seattle's first women's professional basketball team) in 1997 and 1998. He was occasionally the mascot for the Seattle Thunderbirds in the late 1990s and also did promotional work for the Seattle Storm from 2001-2008 and for the Washington Stealth from 2010-2013.
"I've always been a very outgoing, social person and I do have experience as a Master of Ceremonies at fundraisers and business events," Willits said. "I don't have any formal broadcast training and I'm sort of glad I don't. My style is more casual, as though I'm sitting in someone's living room just talking to them while we are watching a game together. My approach is very conversational along with my energy and passion that come naturally to me. It is more personal that way and for that I don't need an education in broadcasting."
Originally, Steve thought that he was only going to broadcast 10 Terrace football games, not planning on anything more. As the football season moved forward, DeMiero talked of also doing basketball and asked if he (Steve) would be interested in continuing with the broadcast team into the winter. By that time Steve was hooked and loving every second of the broadcasting. Now almost two full years into SLSN, and having broadcast football, baseball, softball, basketball, volleyball, soccer and lacrosse, Steve is still having the time of his life.
"Broadcasting games for my alma mater is something that I take a great deal of pride in," Willits said. "MTHS has always held a special place in my heart."
When Steve isn't talking about high school sports, he enjoys running. He ran his first marathon in 2005, and has completed 18 marathons since then. Back on Dec. 1, 2013, he competed in the Seattle Marathon. Steve finished with a time of 3:47:38, which is his fastest time, and he just so happened to do that the day after his 41st birthday.
"There aren't too many sports in which a guy my age can still set personal records so that meant a lot to me," Willits said. Running is great on so many levels. It enables me to still be competitive physically, stay in shape, think freely, and is a great way to alleviate stress."
Steve is hoping that the best is still yet to come, and that he can set another personal record in 2014.
"Running also provides me with goals to strive for," Willits said. "In 2013, I ran 2253 miles; my goal this year is 2500 [miles]."
Besides running and covering several sports, Steve is just a normal guy. He enjoys spending time with family and even though he doesn't have any kids of his own, he talked about his 3-year-old nephew named Liam.
"Watching him [Liam] grow and being a part of his life means that world to me," Willits said. "I love hanging out with friends, watching movies, reading, television, etc., nothing too out of the ordinary.
When Steve first joined SLSN, he thought he would just 'show up on game day, broadcast a game, [and] go home' and that was it. He never realized that he would get so close to many of the people involved and how much they would enrich his life. He mentioned that some of his best friends are those that he has met in the last two years from broadcasting game – parents of Terrace athletes, MTHS employees (teachers and coaches) and other local prep sports journalists to name a few. He has also enjoyed getting to know many of the students at MTHS.
"It is neat to be able to feel a sense of pride for Terrace students whenever I see or read about one of their accomplishments (Sports, music, academics, etc.)," Willits said. "Mountlake Terrace has a lot to be proud of as a school and community. Seeing so many promising young people accomplishing great things is gratifying, especially when it is an individual or group that I've gotten to know on some level."
Steve mentioned that writing is something that doesn't come naturally to him and his doesn't consider it as one of his strengths.
"The Hawkeye has provided me with a chance to step out of my comfort zone and forced me to use a creative side of my brain that doesn't get as much exercise, as it should," Willits said. "So far it has been an amazing experience. I often get asked if I would want to work for the Sonics again if another NBA team relocated to Seattle. My answer for the past year has been that I would rather continue in my role broadcasting for MTHS and the rest of the Edmonds School District. I enjoyed my time in professional sports, but I have moved on and prefer to continue at the high school level. I appreciate the fact that the high school athletes are involved for the love of the game. They aren't being paid and most don't have the inflated egos, they are playing because they love the game. I enjoy watching young athletes evolve from one season to the next. Seeing a player come back onto the court or field after working hard to develop their game in the off season and to notice the progress that they've made from the last time you watched them is exciting. The game is pure at this level and I've come to realize that watching the athletes that make the most money isn't always as enjoyable as watching young athletes from my community achieve their goals.  I've landed in a special place and I'm not ready to go anywhere for a while."
[/vc_column_text][/vc_column][/vc_row]