[vc_row][vc_column][vc_column_text]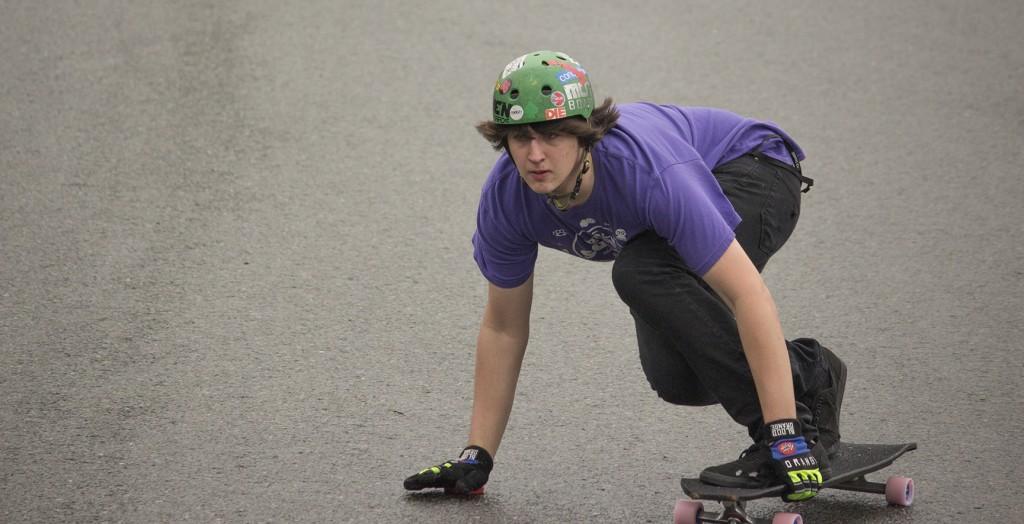 [/vc_column_text][/vc_column][/vc_row][vc_row][vc_column width="1/1″][vc_single_image image="9982″ img_link_target="_self" img_size="full"][/vc_column][/vc_row][vc_row][vc_column width="1/1″][vc_column_text]
Senior Sam Galus doesn't have a varsity letter. He isn't recognized by the school for athletics. He hasn't been recognized at an assembly for his achievements. But Galus is an accomplished athlete and a multi-sponsored longboarder. Galus has a strong passion for longboarding. He started riding skateboards at around the age of 12. A few years later, sometime near the beginning of his freshman year, he stepped on a longboard. Three companies sponsor Galus: Motion Board Shop, Omen Longboards and Blood Orange.
"I started riding for Omen, which is a Seattle-based company, about a year ago. Shortly after that, I got picked up by Motion because they're jointly based companies," Galus said. "I just recently started riding for Blood Orange, which is a Southern California-based company, which produces mainly accessories; bearings, gloves, etc."
Along with the sponsorships, Galus said he loves longboarding because of the community associated with it. According to Galus, stereotypes surrounding skateboarders are harsher than those of longboarders.
"The longboarding community is friendlier than skateboarders. People tend to look at skateboarders and say they're a bad influence, whereas longboarders have a nicer approach to society," Galus said
Just like the community of the two, the styles of skateboarding and longboarding are quite different.
"Longboarding is like a new sport, and it's pretty different from skateboarding. It's more speed-based; going faster than skateboards, where skateboards are more meant for going down stairs, doing tricks and things like that, just a little less possible with a longboard," Galus said.
Some may wonder that if tricks aren't a part of longboarding, then how would there be any longboarding competitions? Galus mentioned several different types of competitions. There are races in four-man heats, there are "Slide Jams," where 50 riders are on a hill and are judged on different slide maneuvers they can do, and there are longest slide competitions to see who can go the fastest and slide as long as they can.
Story continues below advertisement
"I have attended a couple of competitions," Galus said. "I've won a couple of them. It's a good way to meet new people, and just kind of test your skills. It's a pretty creative sport."
Social networking is a big part of how Galus got his name out and became known. He started his YouTube channel back in 2011 where he currently has 1,272 subscribers and his most popular video titled "Toeside" has 13,212 views. Galus posts videos whenever he creates them and will also post pictures that he has taken or that people have taken of him on the popular photo-sharing app Instagram, in which Sam has 2,129 followers. He said that if there weren't social media, everything would be different.
"Pretty much the reason people know my name is because of the Internet," Galus said. "Part of riding for a company is that you ride for the company because you want to represent their voice, represent their product. Part of that is just posting around. I use it to my advantage when bigger companies post stuff about me, and it grows my fan base a little more each time. Whenever new products come out, my friends and I go out and film a video for it or film a review for it, and the video grows pretty big if the company is pretty large. If bigger companies post stuff, the more views, the more likes it gets on Facebook. It's kind of just this chain of social media that people admire; the whole longboarding community is pretty powerful on the Internet. There's a pretty large community and fan base that I've developed and longboarding is something that people really enjoy."
Since Sam is a photographer, he has brought his camera wherever he goes – from skating with his friends, to traveling to competitions.
"Being an amateur photographer is something that I've just picked up the past couple years and I incorporate it every time I skate, every time I go with friends, I bring my camera and try to capture what they try and do," Galus said. "I base my photography skills off of that and so far it's worked pretty well. I post my stuff around the Internet. It's just something I like to do. It adds a different sense to longboarding and whenever I get tired of longboarding, I grab my camera and shoot what I see."
Photography is a big part of Galus' life, and he plans to continue to pursue photography more in the future. His culminating project is based off of photography, and he plans to introduce more photography to long boarding.
"I plan to introduce my photography to the whole longboarding scene, see how I can connect both photography and longboarding and move onto different aspects of photography," Galus said. "Photography is something that I'm really interested in and a possible career someday.
Galus will obviously continue to longboard and he plans to travel to more events and compete more. He gave a strong shout out to his companies and said that he would be nowhere without them. Longboarding got Galus his first job and "everything I have right now.
Longboarding is a lifestyle to Galus, like an escape. When he feels bad about something, he grabs his board and goes skating. Galus is very passionate about longboarding since it is a huge part of his life.
"It kind of takes me to a different place where I can just enjoy myself and not really think about bad things," Galus said. "I just kind of stop caring about everything else. If I wasn't longboarding right now, I have no idea what I would be doing; I'd probably be sticking to photography. Like I said, longboarding gives me a place to go when I need it. Longboarding is my life."
[/vc_column_text][/vc_column][/vc_row]