TK Tuesdays: 4-year starter looks to lead Hawks on the diamond
By TK Johnson
March 4, 2014
[vc_row][vc_column width="1/1″][vc_column_text]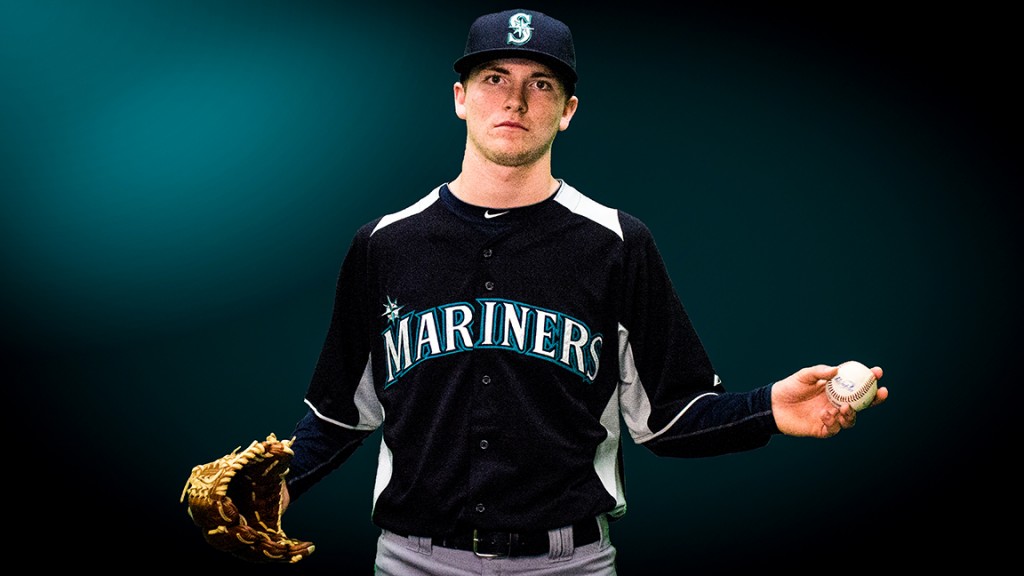 Recently, I sat down with one of my friends, Dominic DeMiero, who is a senior and a pitcher for the varsity baseball team. With spring sports starting this week at Terrace, I thought it would be a perfect time for this story.
Dominic started baseball when he was just 3-years-old, when his dad signed him up for t-ball.
"I never really played t-ball, always hit off of someone pitching to me," DeMiero said.
Dominic also played hockey for five years, before stopping to focus strictly on baseball. He never played soccer because, "my parents thought I would just pick up the ball and throw it in the goal," DeMiero said.
Last summer, Dominic was selected to play on the scout team for the Seattle Mariners. This is where the big leagues look for possible ballplayers in the future for their team and college coaches get a chance to see the top talent in the country. The scout team consisted of the top players and athletes from throughout the Northwest.
"That was the best team I'll probably ever play on," DeMiero said about how most of his Mariners teammates will get drafted or sign with a Division 1 school if they haven't already. "It definitely put a little bit of pressure on me, [but] I just fit right in with everybody else."
When asked about what he gained from the experience, he explained that he didn't really get taught anything new, it just made him more comfortable on the mound and he just got better.
"It made me better being around those types of guys," DeMiero said. "I got more comfortable on the mound. I didn't feel like I had to do everything by myself, that maybe on another team I would. [With other teams], I feel like if I make a mistake pitch that it'll be an automatic double, [but with the Mariners scout team] I had confidence in my outfield that if I did make a mistake pitch that they would help me out a little bit."
Dominic talked a lot about the game and how he sees it as a pitcher and as a hitter.
"I can take as long as I want, there's no time limit," DeMiero said about pitching. "It's cool thinking as if I was a hitter, what would I be expecting the next pitch, and I don't throw that."
Even though he likes hitting, he has a different feeling about hitting than pitching.
"Hitting is hard," DeMiero said. "If you fail seven out of 10 times in the major leagues, you'll be a multimillionaire and go to the hall of fame. The game is not designed to be successful, it's designed to fail."
Dominic, being a senior, is starting to think more and more about college and his future. He isn't sure on his major yet, but knows he wants to play baseball at the next level.
"My goal is to play somewhere in the PAC 12, so we'll see what happens," DeMiero said. "I've always been interested in fire fighting, also in meteorology. I don't know, [but] I probably won't be a teacher like everyone in my family is."
He has talked to several schools, including taking a few visits before the start of his senior season. While his ultimate goal is to play in the major league, he understands that you always need a backup plan.
"You have to have a backup plan, because the odds of doing that [making the MLB] are slim, but it's definitely not impossible," DeMiero said.
While college and his future are on his mind, he is still looking forward to his senior season of baseball.
"Be as good as I can be [and] be better than I was last year," DeMiero said.
"I was pretty successful last year, but not as successful as I wanted to be." Last year, DeMiero was named to the WesCo 1st Team as a pitcher and first baseman, and was named to the 2nd Team All Area.
When talking about his feelings about this year's team and how far they can go, he said, "We can go as far as we want too, so if we play to our potential, we should be pretty successful."
[/vc_column_text][/vc_column][/vc_row]