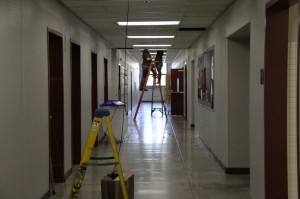 Photo by Kiah Helms
Installation is underway for a new theater sound system which is expected to cost nearly $100,000 to replace the nearly 25 year-old current system.
Drama teacher Jeannie Brzovic said the need for this new system is high, with the old system broken and unable to serve the drama department's needs.
"The speakers are blown out and the sound effects equipment is a basically a CD player," Jeannie Brzovic said. This new system will enhance performances for all who use it.
Story continues below advertisement
The functions of the new system will be completely computerized and digital. With the new equipment we are able to replace the technology that was originally installed along with the rebuild of the high school 25 years ago.
"This project [will cost]…around $100,000 and was paid for by the Capitol Projects Fund through the [Edmonds School District],"  theater manager Dave Dolacky said.
Construction was started about a week and a half ago and installation should end sometime around the first week of November. Morgan Sound, a locally based company, is installing the new sound system.
"We are so excited about this new sound system," Brzovic said.
Brzovic said it's an important thing to all the students and staff involved in theater because they have been performing without a proper working system for quite a while now.
Not just the drama students can benefit from this upgrade to the sound system. The new sound system is beneficial for everyone in the art program and out, and the theatre experience.
"This is both giving us a system that we can depend on that works that not only the theatre can use, but the band can use, the choir can use, and also the people who rent this theatre out can take benefit of it," Dolacky said. It will create a larger revenue stream and help pay for many new things.
Completing the installation of the sound system is critical because of the upcoming drama performances Sympathy Jones and The Miracle Worker in mid-November.