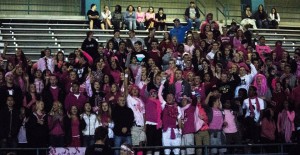 To raise awareness and money for breast cancer research, the MTHS cheerleaders led a number of activities to promote the cause, including selling bows and collecting donations.
During the fundraiser, cheerleaders sold bows that they made themselves. The bows were sold at lunch. Bows of various sizes and prices were sold to raise money.
During lunch, some of the cheerleaders also walked around and collected donations.  All of the proceeds collected are going to the Susan G. Komen Foundation to support research for breast cancer.
These fundraisers were part of Breast Cancer Awareness month.
"We knew it was breast cancer month and we wanted to use our pink out game to raise awareness and raise money for breast cancer research," senior cheerleader Sarah Smith said.
The fundraiser was collaboration with the Meadowdale High School cheerleaders. The Meadowdale High School cheerleaders expressed interested in working with the MTHS cheerleaders. There was a competition to see which school could raise more money for the cause.
The fundraiser concluded at the football game on Oct. 11. The game was a "pink-out game" and students were told to dress up in as much pink as they could. Before the game, bows and stickers were sold and donations were collected as well.  Bows were sold out before the game even started and lots of donations were collected.
During the halftime show at the game, the MTHS cheerleaders performed a dance alongside the Meadowdale High School cheerleaders.  Parents also collected donations throughout the game.
Photo by TK Johnson | The Hawkeye
Story continues below advertisement