Social media: innovative interactions
As senior Kyra Dahlman strolls down the wide hallway, her eyes are glued to her phone.
She's tweeting.
She's relaying information to her followers about her experience at the National High School Journalism Convention in San Francisco, Calif.
Dahlman is one of the many students at the convention who are using social media to stay connected to others, obtain information about upcoming sessions and to find her way around.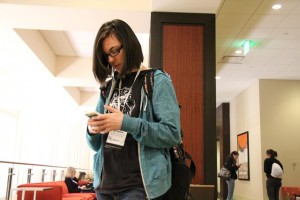 In San Francisco, students, advisers and convention staff are using social media to try to enhance the convention experience.
During the convention, there is an extreme emphasis on social media use.
Freshman Sereena Gee said she uses social media to stay informed.
"I'm able to communicate with other students and know what's going on," Gee said.
The convention has a strong Twitter presence. Named after its hashtag, "#hsjSF," the convention is using Twitter to reach out to attendees.
Twitter is used by the convention to relay information to followers, and to create a discussion about all things convention.
Related story: Twitter now trending at MTHS 
Additionally, during keynote presentations, attendees are encouraged to tweet questions to the presenter using the hashtag at the end.
The April 25 keynote presentation by photojournalist Richard Ross included a question and answer period with many questions directly from Twitter.
Senior Michelle Schomer was one of the keynote attendees who had her tweeted question answered by Ross.
"It actually took me a while to think of that question so it really made me happy that my question was answered," Schomer said.
Another innovation that many love is the Guidebook App for smart devices. The free app allows uses to pick and choose sessions to create their own schedule, find information about speakers and even see maps of the convention.
"I downloaded the Guidebook app before I even got here. I've been using it to arrange my schedule and I can set alarms," MTHS HawkTV adviser Angelo Comeaux said.
This new technology is also allowing more feedback directly from session attendees. On the Guidebook app, attendees can write reviews and give feedback about each individual session.
JEA Administrative Assistant Connie Fulkerson said, "The students can evaluate [the sessions] by going to the [Guidebook] app."
Fulkerson remembers a time of film cameras and slide projectors.  Both technology and journalism has changed greatly since then.
Master Journalism Educator from Southeastern Louisiana University Joe Mirando said he thinks that social media is currently having some negative effects of journalism.
"We really do have to be more serious, more savvy, more skeptical [of news from social media]. It's kind of hurting [journalism] right now," Mirando said.
However, Mirando said he sees great potential in social media.
"I think as time goes on [social media for journalistic purposes] is going to really be a tremendous thing. It's going to be a great forum," Mirando said.
Answer our poll: What social media outlets do you use?
Any thoughts about social media? Leave a comment below, tweet us @MTHSHawkeye, or email us at

[email protected]

.