Homeless student numbers on the rise
By Will Khadivi
October 22, 2013
On a chilly night in early autumn, about 60 people gathered in the basement of a Mountlake Terrace church to chat with friends, have a hot meal and seek shelter from the cold.
The Bethesda Lutheran Church has been holding these free dinners once a week for five years. They are open to anyone and draw a diverse crowd from the Mountlake Terrace Senior Center next door, families with young children and homeless persons who live throughout South Snohomish County.
"I would say a dozen to 15 or 16 people that we know [who come to the weekly dinner] are living in the woods or on the streets," Pastor Malcolm Brown said. "Then there are those families that just need help. Every now and then we know of people who are living in their cars."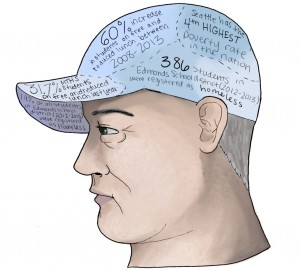 A large problem in the United States, especially in the Seattle area, is the number of people forced to live on the streets, in public parks, or under bridges. In the last school year, a total of 386 students in the Edmonds School District reported themselves as homeless, including at least 10 at MTHS.
According to LeAnne Brisbois, the Edmonds School District's liaison to homeless students, this year many more students have already reported themselves as homeless than this time last year. So far this school year, 213 students in the district have reported themselves as homeless – including eight from MTHS.
According to a report from the U.S. Department of Housing and Urban Development (HUD), there were 633,782 homeless individuals in the United States on a single night in 2012. Seattle was reported to have the fourth highest number of homeless persons in the country – 8,899 were counted as homeless in Seattle on the night the survey was conducted.
"I have a few friends who have seven day jobs that they go to every day and they are forced to live outside because they can't afford a home yet," Savage said. Savage is a 27-year-old homeless man who's living at a campsite in Mountlake Terrace. (The Hawkeye honored Savage's request to not include his last name in this story.)
"I've seen people in suits, I've seen people with tattoos, and I've seen old people, young people. I've had a series of 15-year-olds to 23-year-olds living in my campsite," Savage said.
Someone is deemed homeless when they are living somewhere not considered a residence, like their car, a tent or under a bridge, or is sharing a house due to loss of their own housing. This includes living in a friend's house or at a homeless shelter.
During the past few years, MTHS has seen a steady increase in the number of students categorized as homeless. According student advocate Ashley Johnson, the problem is not getting better.
"We have a pretty steady rate of homelessness," Johnson said. "We see it tend to happen when the weather gets colder, sadly. For some reason, that seems to be the time people start losing their housing."
Part of the problem for government agencies and social service organizations is that homeless is difficult to record. For schools, it is often up to families and students themselves to report that they're homeless in order to receive special services and aid, such as transportation to and from where they're living and free and reduced lunch.
"It can be a really scary thing to tell people what's going on at home," Johnson said. "Letting a counselor know will help students get some of the services that can make things at least a little bit easier, like school supplies, transportation and food. We can help them with whatever they need.  I'd really encourage them to talk with their counselor. We keep it confidential."
Like homelessness, part of the problem with free and reduced lunch rates is that many families don't report that they need help.
"A lot of people don't sign up for free and reduced lunch because when you fill out that application you're required to write down your income," Johnson said. "Not everyone is comfortable doing that. We have families that may be concerned about the information they share."
However, Johnson assured that there is nothing to be concerned about.
"No one does anything with that information except qualify them for free and reduced lunch. Still, families get nervous about sharing any personal information if they're unsure about someone knowing about it. We have a lot of people who should qualify but just don't fill out the form," Johnson said.
MTHS students also deal with the overall effects of poverty. While the economy has been slow to recover from the lows of the last recession, good paying jobs have been slow to come back, too.
As a result, MTHS has seen its rate of students on free and reduced lunch skyrocket. According to the Office of Superintendent of Public Instruction, the government department which oversees Washington's public schools, MTHS had an official free and reduced lunch rate of 31.7 percent last school year. That's up from 19.9 percent in the 2007-08 school year.
Some don't want to admit their financial problems because homeless persons are often viewed negatively, though many times they are just people who are down on their luck.
"A lot of people who are privileged with having homes deem us a vagrants and vandals and all this nonsense," Savage said. "It's quite slanderous to have people that go to businesses and look at us like they're better than we are. In which case, they don't know what's going on. Some people didn't have a mother or father (in their life) and were forced to be homeless."
Another of the many challenges that homeless people often face is misunderstanding.
"Every day that I don't have food, there's these food bins that are around Mountlake Terrace," Savage said. "When I went to the QFC to go get food out of there, I immediately got scolded by someone who works at QFC and was threatened to call the cops on. Even though the people know my situation, some people just don't care."
Savage and his friend Zara were both at the church dinner. Savage has been homeless for almost four years while Zara has been on the streets for about six months.
"We can't help it," Zara said. "It's not anyone else's business what happened and why it is the way it is, and you shouldn't judge anyone because of it."
Zara also declined to give her last name to the Hawkeye.
Both Savage and Zara live at a campsite in Mountlake Terrace. They claim that there are a few more around Mountlake Terrace and Lynnwood in public parks and wooded areas. According to Zara, one of these camps is in Terrace Creek Park (Candy Cane Park).
Many of these camps aren't immediately visible.
"The thing about homelessness is that it is so unseen," Johnson said. "You may have no idea that the person you sit next to in class is homeless. I think that's a big thing that Terrace could be more aware of – that we have classmates and friends who may be going through huge things and we have no idea."