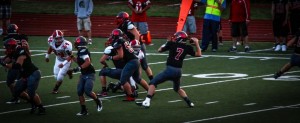 In what was a highly anticipated season opener for the Hawks, the only word to describe the game is ugly.As the Hawks lined up against the Stanwood Spartans on Friday, Sept. 6, they never even got things going in the 29-13 defeat.
In the first half alone there was a combined five turnovers between the Hawks and the Spartans.
Collin Hood, Spartans running back, was responsible for four fumbles throughout the game, two of which Stanwood recovered.
By the end of the game there was a combined nine turnovers, five of which were from the Hawks.
On offense the Spartans decimated the Hawks, picking apart theirdefense play after play. Wide receiver Laurence Wanambisi was responsible the first two of the Spartans touchdowns, making big play after after big play, using his large frame and sheer physically to shrug off tackles from the Hawks defense.
Spartan quarterback Drew Wright led the charge for the Spartans, sans a few mistakes where the Spartans called consecutive time outs twice during the game without even snapping the ball.
Stanwood continued to experience clear communication issues throughout the game.
Early in the game the Hawks experienced a scare when junior quarterback Justin Hopkins went down with an apparent leg injury less than five minutes into the season.
Story continues below advertisement
Sophomore Tanner Munnis replaced Hopkins for the rest of the quarter until he returned with a visible limp. Hopkins was clearly in pain and suffered major reduced mobility, limiting the Hawks passing options to short, quick routes.
Stanwood's defense took advantage of the Hawks limited playbook, pounding the MTHS line and consistently blitzing, putting running backs Chance Ragsdale and Ryan Lacasse in the backfield.
Without star senior running back Devante Downs, the Hawks struggled to establish the run game, their usual strong suit.
That being said, Ragsdale and Lacasse both had several big plays showing off their bright futures for the rest of the season, and in the case of Lacasse, his high school career.
After the game, Bates explained that his first varsity start felt "pretty good, my defense could've been better" and "I know we had what it takes to compete against them, we should've done better; could've done been."
Umayum added "It's one of those games that are extremely disappointing…There was a lot of times where the ball was on the carpet and they [Stanwood] recover it.Our pass defense got exposed, we didn't run the football like we should be able to. We've got to regroup and become a deeper team. We couldn't get into a rhythm offensively, defensively we couldn't make some big plays."
The Hawks take on Edmonds Woodway next week.