Huge posters made with the messages "Thinking of you Jose" and "Get Well!" were delivered yesterday to Jose Bernabe, 16, the victim of an assault last week in an MTHS restroom.
Hundreds of students and staff signed the posters after the Mix It Up Club created them last week. The club set up a "flash-mob poster painting."
"There are donations accepted in the main office [for Jose's family]," school psychologist Julie Schwab said. "A lot of students are coming together and doing fundraisers and doing different things to support Jose."
On Tuesday, Dec. 4 before first lunch in a restroom near the Hawk Shop, Bernabe, a junior, was assaulted and robbed of his wallet. The main suspect is senior Darian Sharpe, who was formally booked by the Mountlake Terrace Police Department and charged with one count of robbery in the first degree and one count of assault in the second degree. He was emergency expelled on Dec. 4 by school officials.
According to several news reports, Sharpe has an extensive criminal record.
Sharpe was released on bail early in the morning on Thursday, Dec. 6.
Bernabe was taken from MTHS to Swedish Hospital in Edmonds and later transferred to Seattle Children's. He was released on Wednesday, Dec. 5.
Bernabe's injuries included a broken jaw, at least one knocked out tooth, and likely a concussion. He also required stitches. Bernabe underwent a surgery to repair his broken jaw.
"It wasn't a stabbing," Principal Greg Schwab said. "We are working to establish whether or not there might have been something used to hit him with."
Story continues below advertisement
"The police investigation is wider than just the one student," Principal Schwab said. "The police are interviewing several students at this point to try to understand who else may have been involved."
"Darian could have not done this by himself, that bathroom gets full every single lunch," junior Jennifer Richarte, a personal friend of Bernabe, said. "Jose's always in that bathroom. Why would he do it in that bathroom when there's many people, it was obviously planned out because he knew what he was doing and it's loud so you really wouldn't hear much."
At this point in the investigation, no additional persons have been officially named as suspects.
One story circulating MTHS is that Bernabe was carrying a large amount of cash with him at the time of the incident.
"He buys lunch for his friends or if you ask him for money, he would give you money," Richarte said. "It depends if you really know him, he will give you money. He would spread out money to close friends, not just like people who come up and ask him for money."
A day after the incident, Seattle news media came to MTHS to cover the assault and robbery. In the opinion of some students and staff, the coverage was less than fair to MTHS and included an inaccurate description of Bernabe.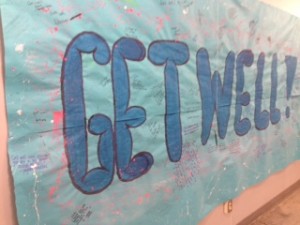 KOMO-TV news speculated that the incident might have been the result of "bullying gone too far." KOMO also inferred that Bernabe may have been targeted because of academic programs he is part of at MTHS.
According to Principal Schwab, it is not believed that Bernabe and Sharpe knew each other.
A post was made on Sharpe's Facebook time line on Dec. 6 denying any wrongdoing on his part.
"I am sorry for what has happened to Jose, not all the facts are up front yet and people are going to believe whatever direction it points but I am not guilty of what I am being accused of," read the post on Sharpe's Facebook. "I did not touch Jose … I know the truth will be out in the end of this and will see I have done no harm to this young man and am paying for a crime I have not committed," the post continued.
The incident has created somewhat of a somber tone on campus and has raised many questions as to why this happened and what could have been done to prevent it.
Students and staff who know Sharpe say he wasn't acting out of the ordinary on the day of the incident.
"He [Sharpe] didn't do anything unusual Tuesday than he did any other day," teacher Kimberly Nelson said. Nelson had Sharpe in one of her classes prior to the incident.
"He's not the one who starts trouble with other kids in class," Nelson said. "I have only known him since September, but he and I have gotten along fine. He's an angry kid, I do agree with that."
Students and staff agree that the level of violence in this incident is rare at MTHS.
"I have 170 kids who come through my door who do amazing things, who deal with terrible stuff in their life and still come to school," Nelson said. "You never hear about them on TV. You only hear about one kid who made one mistake and that makes me tragically sad."
Read about Humanities teacher Stephen Merlino's Letter to the editor about this issue.