Volleyball set to serve up post-season
If there's only one thing people can say about this year's volleyball team it's this – they're already as good, if not better than last year's squad.
Last year the Hawks finished 6-8 overall, just one game under the elusive .500 mark. This year however, the girls roared to a quick 6-0 record before dropping their last three games against Shorewood, Meadowdale and Glacier Peak.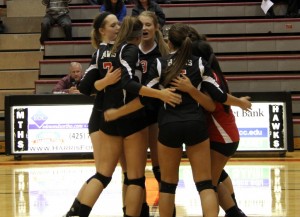 All three teams also have at least six wins on the season.
Shorewood [7-3 overall, 3-1 in league play] and Meadowdale [6-3 overall, 2-1 league] each beat the Hawks 3-2, while Glacier Peak [8-1 overall, 3-0 league] shut out MTHS 3-0.
With the mid-season mark just passed, and every game remaining a WesCo South Conference matchup [sans the Anactores Tournament on October 20], it is crucial for the Hawks to keep the top half of the conference easily within reach.
The Hawks look to rebound against a 2-7 Shorecrest Scots team later tonight.
The Scots and Hawks are both tied for last place in the WesCo 3A South Conference.
Shorecrest's only two wins have come against the winless Marysville-Getchell Chargers and Mariner Marauders.
After Shorecrest comes re-matches against Shorewood, Meadowdale, and Glacier Peak.
The Hawks hope to bounce back from disappointing previous performances against their conference rivals.
With a solid team and fundamentally sound squad, this is a team that is a force to be reckoned with nearing the postseason.