Varsity Football: New expectations, new look, new hope
In spite of the Hawks' rough start last Friday, this years' football team may have some of the highest expectations in recent school history.
The team hopes their all new grey helmets will signify the start of a new era.
Coming off a season with possibly the youngest roster in head coach Tony Umayum's nine year stay with the Hawks', things seem to be looking up.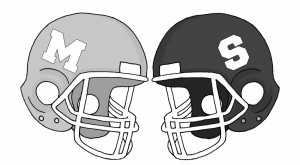 Junior running back Devante Downs figures to be an important piece of this year's offense attack. He picked up right where he left off last season (before he was injured for the last couple of games) scoring all eight of the Hawks' points in the fourth quarter on a nine yard touchdown run followed by a successful two point conversion.
Downs finished the game with 18 carries and a whopping 106 yards. Downs combination of size and speed gives him a large advantage over opposing defenses, and is easily a big playmaker on any team.
Another big piece for the Hawks' hopes this season is returning senior quarterback Beau Kennedy. After a really rough first year as a quarterback where Kennedy took a lot of hits behind a young offensive line, Kennedy is retooled and ready for a big year
Wideouts Tye Esparza, Quintin Barnard, and Shawn Evensen give Kennedy plenty of talented targets to throw to. He finished the season opener with nine completions in 19 attempts for 91 yards, and rushed 10 times for 78 yards.
Also returning is an offensive and defensive line that is a year older, but still very young. Now with more experience under their belt (and a little more size up front) Kennedy should be given some better protection, allowing him to stay in the pocket longer for more passes, instead of being forced to rush when pushed out of the pocket.
Opposing backfields should feel more pressure too, as the Hawks' won't be outmatched every week anymore. The defense should look pretty familiar with Downs doubling in the secondary (as well as a running back) and second team all-league safety Mason Stone returning.
After finishing two straight seasons at 6-4, last year's 2-8 finish came as a bit of a surprise. But with a more experienced and better tooled roster than many in recent team history, there's no reason to believe that this team won't show a lot of signs of improvement.
Expect some big things this year, and hopefully for years to come.