Running and walking to support a great cause
Runners and walkers took part in the first Mountlake Terrace 5K Fun Run/Walk on July 28. Friends, families, and neighbors gathered at MTHS at 8:30 a.m. to begin the 5K (equivalent to about 3 miles).
Part of the three day Tour de Terrace festival, the fun run/walk raised money for Cedar Way Elementary, Mountlake Terrace Elementary and Terrace Park Elementary (the three elementary schools in MLT).
172 participants ran, walked, and even one man biked through the streets of Mountlake Terrace. The route was described on the event website as "winding its way through the scenic back roads of Mountlake Terrace."
The event had tremendous community support. Members of MTHS ASB were positioned along the route, cheering on the participants.  The Mountlake Terrace Police Department was on scene, protecting and  also cheering on the runners and walkers. Many local businesses sponsored the event, with gold sponsors being MLTnews, Red Onion Restaurant, Home Street Bank, Cascade Elite Gymnastics, Back to Action Chiropractic, Blue Flame Heating and Air Conditioning and Gabriel's Fire Restaurant.
The participants were divided up into age groups of 10 and under, 11-16, and 17 and older.
17 and Older
Male Winner: Brendan Franz
Time: 16:47
Female Winner: Judy Johnston
Time: 21:59
11-16
Male Winner: Jack Pearce
Time: 17:52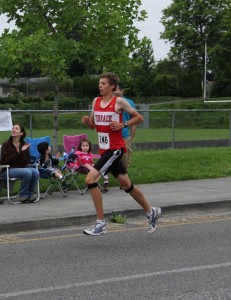 Female Winner: McKenna Hunt
Time: 22:27
10 and Under
Male Winner:  Owen Moreland
Time: 28:09
Female Winner: Sierra Fisher
Time: 31:35
For a complete list of how each participant finished, click here to take you to the event page where you will find the "results" heading.
About the Writer
Nick Fiorillo, Editor-in-Chief
Nick Fiorillo is the Editor-in-Chief of the Hawkeye and thehawkeye.org. This is Nick's second year of serving as editor. Last year, he led the Hawkeye in one of the organization's most dramatic transformations in decades, replacing the broadsheet newspaper with a feature based newsmagazine and an emphasis on online content.
Prior to serving as editor-in-chief, Nick was the local news editor during his sophomore year and was a staff reporter during his freshman year.
Nick was named as the 2014 Free Spirit Scholar from Washington state, and traveled to Washington, D.C. as the Washington state delegate to the 2014 Al Neuharth Free Spirit and Journalism Conference. He has received several state and national awards for journalism, including several JEA National Write-off Competition Awards. He was recently awarded the rating of "Superior" for Editorial Writing at the Spring 2014 JEA/NSPA High School Journalism Conference in San Diego, Calif.
His interests include journalism, politics, public policy, law and education. He plans on attending a four-year university and majoring in political science and social policy.
You can view his pressfolio here.
Twitter: @nick_fiorillo
LinkedIn: Nick Fiorillo