On Nov. 22, FCCLA will be holding a blood drive to benefit the Puget Sound Blood Center.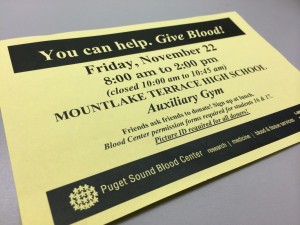 Students must be over the age of 16 to donate, however, students ages 16 or 17 must have parent permission to donate.
"Everyone needs blood. There's always a need of it. For our community to give blood and our students to give blood is a great opportunity to give back something to the community" FCCLA president Aysha Raza said.
The blood drive is an event that FCCLA has held for the past few years.
Students donating blood should eat a healthy meal and stay hydrated before donating.
"It's a great opportunity, something to give back to your community, there's always people in need of blood," Raza said.
Story continues below advertisement