After tough loss, Hawks strike back with 6-0 shutout over Oak Harbor
By TK Johnson
October 16, 2013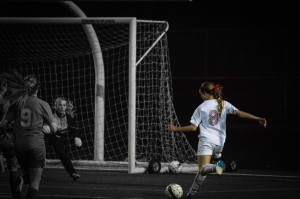 [vc_row][vc_column width="1/1″][vc_column_text]
Tuesday night, the Mountlake Terrace Hawks Girls Soccer team took on Oak Harbor at Lynnwood High School.
The Hawks got out to a strong lead scoring 4 goals less than 10 minutes into the game. Two of the goals were from junior Lily Hart and the other two from fellow junior McKenna Hunt.
With the clock winding down towards halftime, junior Riley Zucker knocked in another breathtaking goal for the Hawks, bumping the lead up to 5-0 at the half.
Terrace didn't waste anytime with Hunt scoring the final goal of her hat trick performance and of the game.
"I wore [a] hat to the game and look what happened," Hunt said. "I've been hungry for some goals lately and wanted to score. Got it done, felt good."
"Today we got out to a strong lead at the beginning and I hope to do that against Meadowdale," Head Coach Evan Hatch said.
"The last two games we've done a much better job of passing the ball and maintaining possession. We'll need to do that to make a playoff run this year," Hatch said.
"I want to prove that the first time we played [Meadowdale – 2-1 in
OT] wasn't a fluke," Hatch said.
The Hawks are now 8-3 on the season.
The next game is Thursday, Oct 17th against Meadowdale at Lynnwood High School, 7:30 p.m.
[/vc_column_text][/vc_column][/vc_row]