A salute to the US Army for standing by Downs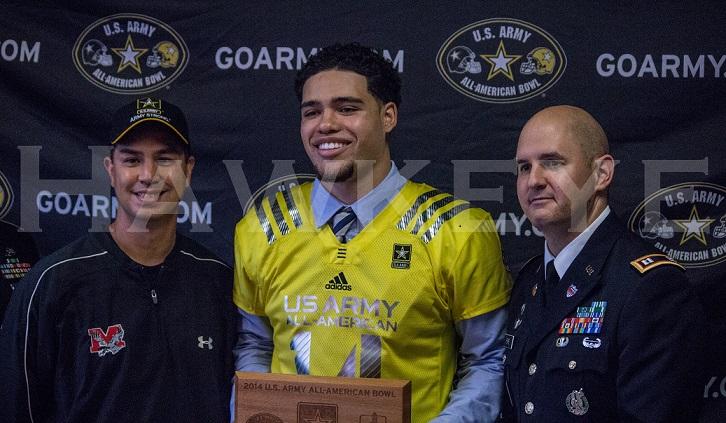 I have always had tremendous respect for the United States Army and appreciate the men and women that serve our country, both past and present. That level of respect became even greater after witnessing firsthand the Army's decision to stand by one of our fellow Hawks last week at a press conference for MTHS football player Devante Downs.The US Army All American Bowl is the nation's premier high school football all-star game and will be played on Jan 4th at the Alamodome in San Antonio, a game that will be viewed nationally on NBC television. Only a small percentage of players get selected for this game, it is a huge honor.
Over one million students play high school football in the United States each year and only 90 seniors are selected to take part in this particular game. Devante is one of those 90 and he is only one of two players in the state of Washington to will have that honor bestowed upon them this year , Buddha Baker of Bellevue High School is the other one. Only the nation's best will have a chance to put on the US Army All American jersey.
The thing that impressed me the most about everything that transpired last week is the fact that Devante is not playing football at all this season and yet the US Army and the game representatives stood by a prior commitment to him. Devante was originally invited back in May however a knee injury sustained while training this summer has kept him from playing football this fall and he will still rehabilitating his knee in Jan.
I'm not surprised at all that the game is still allowing Devante to take part in the activities down in San Antonio as it would have been a bad public relations move on their behalf if they didn't. I am however surprised that they still rolled out the red carpet for him with a first class press conference.
I've attended numerous press conferences in my lifetime. Having worked in and around pro sports for many years, I've seen my share of professional and college athletes stand up and "face the media" with cameras flashing and audio recorders picking up their every word. High school athletes don't normally get the "star treatment" however Devante experienced the fanfare and bright lights last Friday when he was officially invited to participate in the US Army All American Bowl game on Jan 4th.
Walking into Sorelli Pizza for the big event brought back memories for me of working a Sonics game at Key Arena. The place had been transformed temporarily into a media room complete with a US Army backdrop banner, podium, microphones and four cameras set up on tripods awaiting the ceremony.  King 5 TV also had a camera and microphone present and showcased the press conference during a sports segment on the news that night.
Attendees included Principal Greg Schwab (who in his opening remark proclaimed the occasion "one of the biggest announcements in the history of Mountlake Terrace High School), MTHS Head Coach Tony Umayam, Captain Eyer and Staff Sargent Hall of the United States Army,  three representatives from All American Games (a New Jersey based company responsible for producing the game) , a representative from game sponsor American Family Insurance, members of the Terrace football team, Devante's father John and stepmother Xena. The entire press conference lasted about 20 minutes and was well produced.
One of the game representatives, Dakota Strange spoke of the type of individuals that the game targets and how similar qualities can be found in US soldiers. "Not just anyone can be a soldier and not just anyone can be a US Army All American (player), to become either it takes emotional and physical strengths that few possess and even fewer employ. It is these strengths along with the dedication, determination and teamwork that allow them to exceed and excel in school, in training and most importantly, in life".
US Army Captain Eyre also mentioned that a player selected to participate in the game "embodies the characteristics and values of an Army strong soldier and we are proud to have him (Devante) on our team".
Besides being officially invited to the game during the press conference, Devante was also presented with a US Army game jersey and Coach Umayam was invited to fly down to San Antonio and take part in the festivities as well. According to All American Games representative John Schmidt, Devante and Coach Umayam will attend a barbeque one night, an awards show dinner another night and the game on January  4th. Devante and his All American teammates will also take part in a handful of community services opportunities that include visiting a local Children's Hospital and spend time with Wounded Warriors at another hospital. Coach Umayam will also attend an elite Coach's Academy.
The experiences of the press conference and the events that will take place in San Antonio are incredible and will hopefully Devante will come away from both with memories that will last a lifetime.  Memories that wouldn't be possible if not for the US Army's willingness to stand by their commitment.
United States Army personnel are encouraged to learn The Soldier's Creed during basic training and to live by it.  One of the lines in the creed states "I will never leave a fallen comrade". Military personnel believe whole heartedly that you leave no one behind. Soldiers have upheld this commitment toward one another in battle dating back to the 18th Century and last week they showed that it is not just something that they practice while on the battlefield.  It is a way of life.
Devante can't play in the Army's game but he will not be left behind.  As Schmidt pointed out "he was already selected to the game (before the injury) and once you are selected, you are already considered an All American". He went on to say "he will be listed on the roster just like everyone else, it won't list him as being injured". It would have been easy for an invitation only all-star game of this caliber to push an injured player aside to a certain extent and not shower them with the same attention that they would a healthy player. That isn't what this game is about though and that is certainly not how the United States Army does things. The US Army All American Bowl game treated Devante with the respect that he earned and deserved. For that I salute them.