Many girls never seem to be happy with the type of hair they have. Those who have curly hair want straight hair and vise versa. We are able to achieve different hairstyles with heat tools. Unfortunately, heat tools can't be used without damaging hair.
From curly to straight, wavy or straight, there are so many different looks to achieve.  The easiest way to really make hair look good is by taking care of it. Blow dryers and styling tools take affect because of the heat they use. Luckily there are ways to prevent damage.
One step is to buy a good tool. When buying a hair tool look to see if there are different heat settings. This is ideal because someone with finer hair is going to need a lower heat setting than someone with thicker hair. It's best to style with heat as quickly as possible.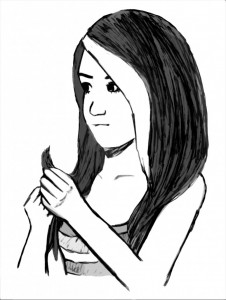 According to WebMD, "If you are using a curling or straight iron, you should probably not use it for more than three or four seconds [per section]," Carolyn Jacob, MD, a Chicago dermatologist and associate clinical instructor of dermatology at Northwestern University School of Medicine, in Chicago said.
This along with a heat protectant will help in preventing damage. Using a serum and heat protectant along with other products are also keen in protecting hair because they lock in moisture and keep it from drying out and frying.
It is best to use alcohol-free products because ones that do contain alcohol will dry hair out and create more of a frizz. It's important that if you use heat on your hair daily that you get a trim every month because you're more likely to have split ends.
According to WebMD,  "Split ends are nature's way of trimming. We need regular trims, especially as we get older and our hair has gone through years of blow drying, flat irons, curling irons, and wear and tear in the sun. The maximum time between cuts should really be 8 weeks, especially if you blow dry and go out in the sun regularly."
Now there are many more tips and tricks in keeping hair protected from the heat but it's always a good idea to give it a break. If there's no time in the morning, just let your flow naturally.
[polldaddy poll=7401705]
Story continues below advertisement