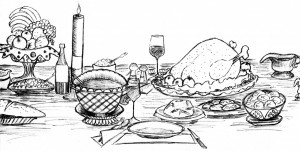 Thanksgiving dinner can be made in a healthy, flavorful way. It's the time to indulge on delicious meals and spend time with family. This thanksgiving season, moderation is key.
Thanksgiving dinner can be an enjoyable meal without all the fat, sugar and calories, but it can be overwhelming to try and eat healthy during the holiday season. It can be made much easier with these simple tips and tricks.
One easy thing to do, is to skip the thighs; one turkey thigh has as many calories as a prime rib. Instead, go for white meat, without eating the skin.
Limit the stuffing and gravy that go along with it to only a couple tablespoons. There are 20 grams of carbs, 450 mg of sodium, 200 calories- and 1 gram of fat in 3/4 cups of stuffing. Gravy is often over used, in one half cup serving there is 16 grams of fat, 206 calories, and 8 grams of protien.
Stuffing can be made in a more nutritious way using lesss bread, and more vegtables like onion and celery as well as more fruit, like apples.
Sweet potatoes are one of the healthier Thanksgiving dishes, they are rich in fiber, high in vitamins C and A, and low in calories. Try adding a dash of cinnamon or nutmeg for a burst of flavor instead of loading them with brown sugar or marshmallows. Cinnamon stabilizes the blood sugar levels in the body, which slows the entry of sugar and carbohydrates into the blood stream.
Another calorie saving swap that can be made, is trading out green bean casserole for fresh green beans. A half cup serving can have up to 290 calories, 11 grams of fat,  and 228 mg of soduim. If you decide to eat all the dishes served, make sure to have small portions.
Take the time to enjoy dinner and eat slowly. Don't linger at the dinner table after finishing the meal; this will make eating more food tempting.
Also, avoid arriving to dinner on an empty stomach. Eating snacks throughout the day will help decrease the likeliness of over eating during dinner.
Story continues below advertisement
Desserts are often loaded with carbs, fat and sugar, there are many alternatives that avoid all these unnecasary calories. Gingered cranberry-pear cobbler and pomegranate-poached pears are two options that are just as tasty, an they have less calories and sugar.
Take advantage of the fresh fruits that are in season during fall that can be incorporated into deserts that have natural sugars instead of artificial flavoring.
If traditional desserts are the only options available, the best choice to make would be a two inch slice of apple or pumpkin pie, not pecan pie. Skipping whip cream can save another 50 calories.
Another thing that can add up quickly on Thanksgiving are drinks. One serving of apple cider has about 100 calories, so limit this to one, eigt ounce serving.
This Thanksgiving, make sure to take the time to prepare healthy and nutritious meals that everyone can enjoy. The holiday season doesn't have to be full of fat, sugar, and calories; it can be celebrated in a healthful way.
Thanksgiving dinner is still eaten after the meal is over, leftovers can be remade into healthy, tasty dishes. Turkey sandwhiches are commonly made for black friday lunch.
Instead of just pilling turkey and gravy onto white bread try white meat, on whole wheat bread, topped lettuce and a little cranberry sauce.
A few other healthy dishes that can be created are turkey soup, stuffing dumplings turkey and sweet potato hash, pumpkin biscottis, and turkey chili.
Eating healthy can continue sucessfully through out the whole year.