Yoga pants being banned from schools has been rumored as a threat around many middle schools and high schools alike, such as the rumors that surrounded Edmonds-Woodway High School. This comfortable trend has escalated quickly, and many girls wear yoga pants on a daily basis.
The price of yoga pants is diverse, from $10 at JCPenney to the more popular brand, PINK, at Victoria's Secret, which price around $35 to $40. The price range makes yoga pants affordable as well as fashionable, so many girls are able to buy something that they consider to look good on them.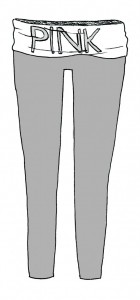 One school in particular, St. Joseph High School in Barrhaven, Ottawa, has decided to suspend any students wearing yoga pants on school grounds if the student does not comply and go home to change.
Yoga pants are one of the few clothing choices that look good on everybody no matter what their figure is, if they have chicken legs or long legs. A girl should have the right to keep their personal confidence of expression through the clothes that they choose to wear.
Banning yoga pants for girls would be like banning basketball shorts for boys. It's not fair to put more limits on girls' apparel than guys' apparel.
Some teachers have been known to wear yoga pants on occasion, so banning them on students would be discriminating to the school and the freewill that goes along with the United States of America.
Some think the tight, cotton, spandex-like material of yoga pants make them inappropriate for school because they are too provocative for an educational environment. However, these pants are fully covering and follow the very reasonable MTHS dress code, so what's the problem?
Like jeans, yoga pants are very versatile, so they can be matched with nearly anything. It's not like they're exposing any personal areas, it's just a different type of leg wear.
This can be a necessity in the rushed and tired life of a teenage girl. However, unlike jeans, yoga pants are very comfortable. They can also maintain that comfort while looking like socially acceptable pants, which gives out a better and more professional appearance than wearing pajama pants.
Story continues below advertisement
Female students shouldn't ever be given such an unreasonable clothing policy as the one banning yoga pants. Yoga pants have never been a problem with the school district for years when girls wore them without a second glance.
Stay hopeful that rumors stay rumors and the girls, or guys, of Mountlake Terrace keep their clothing freedom.