Life after the Oso landslide
On the morning of March 22, a hill gave way between Oso and Darrington in Snohomish County. The landslide that occurred wiped out an entire community and claimed 43 lives, with two persons still missing.
Even 47 miles away, the Oso disaster affected lives at MTHS, including victims and first responders. Ronald deQuilettes, father of junior Audra deQuilettes was one of the victims who was lost on that Saturday morning. His memorial service was held on May 3.
Steve Mason, father of senior Marissa Mason, helped lead the team tasked with the rescue and recovery operations in Oso.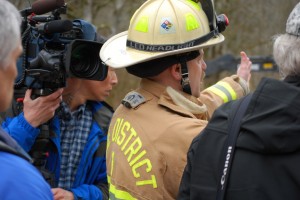 "A catastrophic landslide occurred between Oso and Darrington in Snohomish County on March 22, resulting in loss of life, injuries, destruction of homes and property, road closures, and threats of flooding. The landslide completely covered State Route 530 resulting in its closure, requiring the implementation of detours through adjacent roadways, limiting access for emergency services, and causing extensive disruption throughout the area," Washington state Governor Jay Inslee said in his Declaration of Emergency on March 22.
On March 31, Governor Inslee would then request a major disaster declaration from President Obama for the Oso landslide damage in Snohomish County. On April 22, President Obama approved Inslee's request for a Major Disaster Declaration.
"The declaration brings a full complement of disaster assistance programs to the people and businesses of Snohomish County," Inslee said. The resulting Federal Emergency Management Agency grants will defray 75 percent of the eligible damages and costs."
As of April 28, the Snohomish County Medical Examiner's Office has processed a total of 41 victims from the State Route 530 Slide and has positively identified all 41.
As of April 29, the Washington State Emergency Operations Center has lowered its activation level to Phase Two.
As of April 30, SR 530 remains blocked from Whitman Road (milepost 36) to 310th Street Northeast (milepost 39).
Steve Mason is a Battalion Chief for Fire District One in Snohomish County and Operations Section Chief of the Northwest Incident Management Team, a type-3 all hazards team.
"Our team is made up of graphical information people, weather people, logistics people who work for the public works departments for cities, firefighters, police officers, and it's called an all hazards team because we address all types of hazards," Mason said.
Mason and his team are called out for disasters such as the Oso landslide that go on for longer than most local responders are able to sustain. Before the slide, Mason was spending time with his family.
"We were all out as a family in the car and doing something together as a family and I was told that I was going to be leaving and going to work," Mason said. "I got a text that said that our team was being stood up, which means that they want you to come to work."
As Operations Section Chief, Mason went out in the field and is in charge of planning and helping anyone who needs it.
When he first went to Oso, Mason was the only field operations chief. Once more resources were available, he was moved to the west branch of operations.
"My original job was Field Operations for the entire incident, both the east and the west side, then as we got more resources there, I split off and I was west branch, that included things down in the area that was affected down below, all the way to the top of the hill, which is called the top of the scarp up there," Mason said.
"I was responsible for up to about 300 people who were working citizens and hazmat technicians, rescue technicians, geologists, all kinds of people, department of transportation, department of ecology, national guard and all the folks who came to my area, that was the portion that I was coordinating."
Mason was in the field eight days, working from 6 a.m. to 8 p.m. everyday.
"In this case we went from 0530 (5:30 a.m.) to 2000 (8 p.m.) hours, that was the operational period everyday. I would then be working on planning until midnight. There was a night operation which was just a couple engine companies that just stood by the area because it was too dangerous to work in the dark," Mason said.
"The crews that were out there were out there all day. The citizens who helped, we worked them in shifts, usually a morning, early afternoon, and then an afternoon-evening shift. It varied day-to-day depending on what the needs were."
Mason explained that with him and his team being tired, a new team was transferred in after eight days.
"A new team transitioned in… basically you get together with your counterparts and you tell them what's going on and then they take it forward," Mason said.
With such a dangerous and demanding job, Mason gets great support from his family. His family is an important part of his life.
"My dad is a very humble man," Marissa Mason said. "He does take pride in his work, but he isn't used to other people recognizing it, so this is a big deal for him, even though he won't say it."
When her dad came home for the first time, Marissa noticed that her dad was deeply affected by his time in Oso.
"It was the first time I've ever seen my dad cry, which is really weird for me and that was a big deal," Marissa Mason said. "When he came home, he was tired, but he wanted to be surrounded by the people that loved and cared about him."
Steve Mason said that he and the other first responders were impacted by the horrible aftermath of the landslide.
"It took an emotional toll on everyone who was there. Hazmat and rescue technicians were working right alongside family members who were looking for their loved ones that they lost," he said.
Mason was one of the first responders to meet President Obama when he made a visit to Oso on April 22 following the declaration of a major disaster. "He met [me] and shook my hand. He was very warm and positive," Mason said.
With the state of Washington being in a earthquake zone, people should know what to do in the next situation. The only thing good that comes out of situations like this is being able to prepare for the next time, Mason said. "There's always room for pre-planning," Mason said.
Mason said people in every community should have a plan in place in the event of an emergency, highlighting how the western Washington is prone to earthquakes.
He said the recovery effort is far from complete, however. "This is going to go on for long, long time for these people. It's not a short-term thing, a lot of people forget that in a couple months from now, but these people are going to be dealing with this for a long time." Η