Seniors Erik Hartzog and Joe Koenig won the 13th annual Iron Hawk competition and are progressing to the district cooking competition at Edmonds Community College Wednesday. In addition to winning the last two district competitions, Hartzog is the first chef to ever win the school competition three years in a row.
Hartzog, who is going to culinary school at Edmonds Community College next year, has always set himself high goals for the Iron Chef competition.
"It was exciting to win the competition three years in a row because that was my goal," Hartzog said.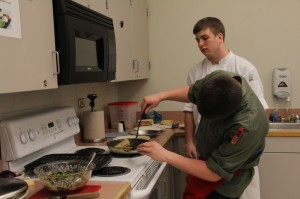 Three professionals in the food industry were asked to judge the competition: Seaun Richards, owner and chef at Red Onion Burgers, Domingo Garcia, owner and chef at Las Espuelas, and Josh Critchley, prepared foods manager at Whole Foods.
The judges were asked to decide the winners out of six different teams. Though only one team took home the winning title, each team won a prize and was given some award title based on their dish.
The winning team made mozzarella in carrozza as their appetizer. Usually deep fried, Hartzog and Koenig used their available resources to pan fry the dish instead. As their main course, the two made flat iron steak with a mango chutney reduction.
"[The dish was] a good combination of sweet and salty, but the steak was a little bit overcooked," Critchley said.
Seniors Jesse Bride and Lauren Sowers earned the second highest score with their bacon wrapped chicken jalapeño peppers and a bleu cheeseburger with buffalo aioli. The bleu cheese was put into the actual burger meat as it was being cooked, which was appreciated by the judges.
"We may be getting a new burger at the Red Onion," Richards said, while sampling the team's food.
Story continues below advertisement
Sophomores Cole Krause and Bailey Hutchinson, who made cherrywood smoked venison tenderloins and calamari cakes, got the third highest score and won "Best Date Night Dinner." Critchley commented that the venison was tender and had good texture. According to Krause, his father caught the venison during the previous hunting season and he smoked it at home to bring for the competition.
FACSE (Family and consumer Science Education) teachers Kimberly Nelson and Jessica Walton and LAP (Learning Assistant Program) assistant Donna Anderson worked together to put on the Iron Hawk competition this year.
Nelson helped start the tradition of the Iron Hawk 13 years ago. She influenced the other district schools to start hosting cook-off competitions as well, which led to the overall district competition.
"The cooking network became really popular and kids were really into it. We were doing competitions in classes and we just decided we should get an even bigger competition going," Nelson said.
Now, the Iron Hawk competition is a publicized event with parents, friends and food lovers coming to watch high school students compete for the top title.