Hawks battle back, make history in win over Mavs
By TK Johnson
February 16, 2014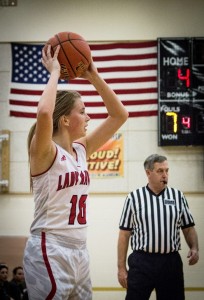 The Lady Hawks women's basketball team beat the Meadowdale Mavericks 51-41 at Lynnwood High School Saturday night in the District 1 semi-finals, thus guaranteeing a trip to the Regional bracket of the state tournament.
It's the first time in the school's 54-year history that its women's basketball team has advanced this far. The Hawks will face the familiar Glacier Peak Grizzlies Saturday night in the District 1 championship that will determine the Nos. 1 and 2 seeds moving on.
After poor first half play from the Hawks, a spark was started leading to the second half comeback.
"We upped our intensity," head coach Zach Wilde said. Nowhere was that more obvious than in the play of senior guard Nikkie Froehlich who finished with a double-double with 17 points and 15 rebounds.
The comeback wouldn't have been possible without junior Sam Romanowski (10 points) and senior and Maddy Kristjanson (13 points), who helped lead the Hawks statistically on the night, but also in terms of intensity on the court.
The Lady Hawks are guaranteed a spot in the state tournament, but they still have to find out their final seeding placement. Terrace will take on Glacier Peak at Lynnwood High School. The game will be live-streamed on the Sound Live Sports Network.