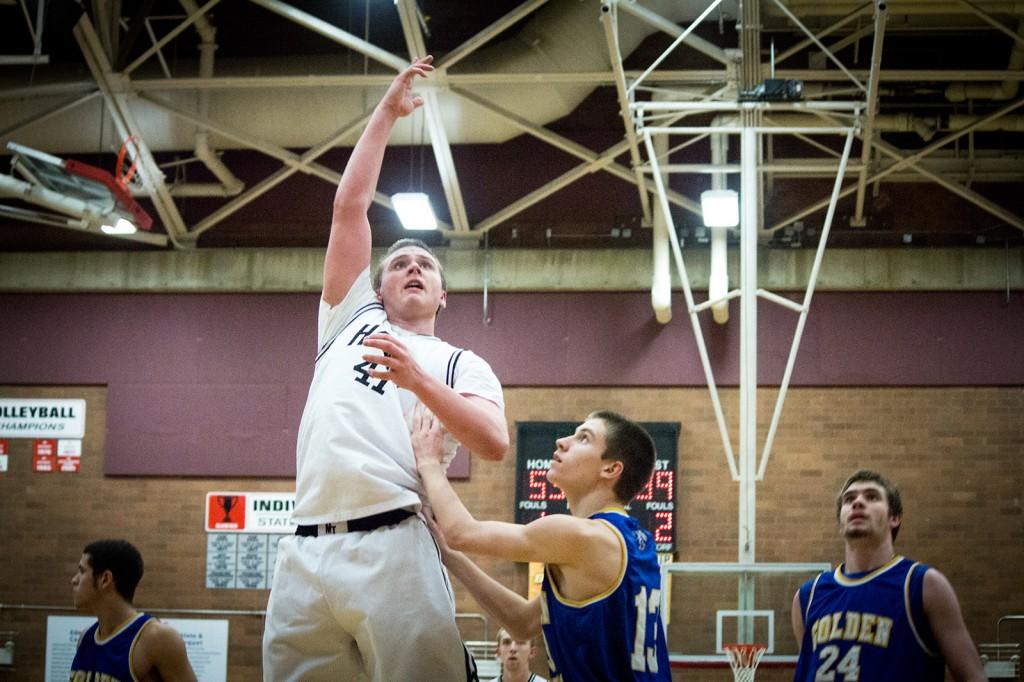 Apparently two different Mountlake Terrace teams showed up to Tuesday's first round 3A district matchup against the Ferndale Golden Eagles.
While the final score of 70-46 showed a dominant Terrace team just simply outplaying a talented but young Ferndale squad, at the end of the first half the Hawks trailed 28-32.
The deficit can be attributed to sloppy passes, poor communication and a scrappy full court press executed by Ferndale. One of the few teams the Hawks have played this year that can actually match up height-wise against the Hawks, seniors Greg Bowman and Loren LaCasse were relatively quiet in terms of scoring.
That all changed in the second half.
After coming out a little bit flat to open the game, Coach Nalin Sood apparently said or did something to bring the Hawks back to life. They began playing the team that absolutely dominated the competition for the first two-thirds of the season. They began working inside-out, driving to the basket and exploiting a strategy many teams had put in place to slow down the post game of the Hawks. As soon as a Mountlake Terrace player drove in to the basket, especially Bowman and LaCasse, roughly three defenders would collapse around the key to create a far more difficult shot for the ball handler.
This allowed the ball handler to instead opt to pass the ball to a Terrace shooter on the perimeter, giving them a wide open shot, rather than forcing a tough basket in traffic. By exploiting said defensive weakness, the Hawks absolutely dominated the third quarter, outscoring Ferndale 18-2 and jumping to a 46-34 lead.
The Hawks never looked back, finishing with a 24 point fourth quarter and actually looking like a team on the court. Players were giving each other high-fives, celebrating big plays with each other, and communicating between breaks in the action, something that hadn't been as prominent in the Hawks' last several games games, which included two losses to close out the regular season.
The Hawks' second half was so dominant, the Golden Eagles scored only four more points (46) than the Hawks 42 second half points for the entire game.
The Hawks move on to play the Stanwood Spartans on Friday at 8pm at Jackson High School. Stanwood (21-0) defeated Shorewood by a score of 77-61 also on Tuesday night.
Story continues below advertisement