Aaron Castleton: February ASB column
By Contributor
February 9, 2014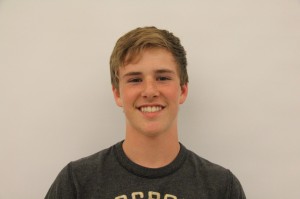 Hello Mountlake Terrace, it's that time of year again, and love is in the air. And not just romance, but kindness for everyone. This week we are trying raise school spirit and have some of the best dress up days ever! Starting on Monday we have "wear your crush" in where you will find every single students name written on a heart, this is the perfect chance to get recognized by the girl of your dreams, or you could even just wear your best friends name. ASB has put in several hours these past few weeks in preparation for this event. In the HUB we have over 1,230 hearts. The next day is, "dress up or down" this means that you either get as fancy as you want with a suit and tie or you can throw on your scrubs! Wednesday is "break up" day. Just so you know, this doesn't mean to actually break up with anyone. All I ask is that you deck out in all the black clothes you have. Thursday is "ballers vs. preps." You can choose to dress like a basketball player or put on your favorite sweater vest or any other preppy clothes available, and to end up the week. We are having a "pink vs. blue" all the girl students dress in pink and all the guys will dress in blue. It's going to be a great week and I can't wait to see everyone's school spirit.
But even though ASB spirits are high, the stress is real! Big Six elections are coming up next week, all students are allowed to vote other then the seniors. This election will determine the executive student council for next year. The positions available are; historian, PR, Secretary, treasurer, vice president, and ASB president. It is vital that these six officials are true representatives of what the student body needs, because the work ethic needed is incredible. The student body should also be informed that after this next election we will be taking a vote on a new school constitution. Our school constitution was first written in the 1960s and has gradually been changed and modified over the years. But it still isn't quite as accurate as we would like it to be, so this Friday a meeting will be held in the theater everyone is allowed to come and participate in the corrections that need to be made. After a vote of approval has been taken from the officers, a school wide vote will be held to determine if it meets satisfaction, as a student of Mountlake Terrace it is up to you to determine what is best for our school I look forward to seeing a positive change.
Not only are our ASB hard at work, but did you hear about our sports teams, Boys wrestling took second place at districts for the first time in over 20 years! The new coach Grant Thompson is a miracle worker. And there not the only ones to be making a great turn around, we officially have the number one girls' basket Ball team in all of WESCO South! So if you see a Women's Basketball player walking down the hall I challenge you to give them the biggest high five ever for being such a great example for our school and I look forward to watching them play at regional and then State!