'Good Luck Charlie' takes a different approach in the media world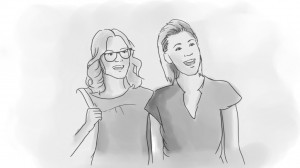 When you live in a society consumed by the media, it goes without saying that new and unprecedented topics are constantly being introduced to the younger generation, and few have left audiences in mutual agreement.
In years past, outlets such as the Internet and television have cleverly danced around more controversial subjects – the "elephants in the room" of the media world. Each passing day has brought about newfound patience and acceptance for sensitive matters concerning the general public, and Disney has just joined this revolution.
On Jan. 26, an episode aired of the popular show "Good Luck Charlie" featuring a girl with two moms, making the show officially the first to showcase a same-sex couple on the Disney Channel.
Since the release of this installment, titled "Down a Tree," there has been an outcry of controversy, such as the announcement from the organization One Million Moms that they will be boycotting the show. In a statement, a representative from the group said, "Disney has decided to be politically correct instead of providing family-friendly programming."
This would be true, if not for the fact that around 6 million children in the United States alone have an LGBT (lesbian, gay, bisexual, transgender) parent, according to a study performed by the UCLA Williams Institute.
For children around the world with LGBT parents, seeing a girl with two moms on TV makes them feel less segregated from their friends who live with one dad and one mom, and shows them that it's okay to have a different kind of family. Although some spiteful church groups and parents might ban this show completely from their children's lives, Disney Channel did not make a mistake in producing this episode and addressing such a highly avoided subject. The most important thing to learn at an adolescent age, regardless of the prejudice they may pick up from their sheltered parents, is not to discriminate, judge and exclude; it's to accept.
Instead of leaving kids to play "Grand Theft Auto V" and "Call of Duty," two extremely violent video games that have been listed by recent studies as among the most popular for pre-teens, children should be taught love before hate. This is the greatest lesson that can be taken from being exposed to a different type of marriage.
What's worse: to show youths two people in love with each other or to show them that they will be rewarded for hurting and killing?
America's culture is in desperate need of diversity, and "Good Luck Charlie" has taken great strides and broken new ground in cultivating it.
No matter your personal opinion on the topic of gay marriage and equality, there is only one word to describe what has happened: progress.