There's a bus unlike any other in the country. It's neither a school bus, nor public transit. It will travel over 15,000 miles along its cross-country "adventure." It transports a former lawyer and a nurse, its purpose solely to educate students about their rights.
Plaintiff in one of the most significant rights cases in the United States (and nurse by profession), Mary Beth Tinker along with former Student Press Law Center student attorney Mike Hiestand have embarked  on a journey across the United States, talking to students about their First Amendment rights.
Dating back to 1965, Tinker's actions have led to what is considered by many to be the most prominent students' rights case in the United States.
"[The Tinker case] is the landmark case for student expression," Hiestand said.
Just a 13-year-old, back in 1965, Tinker and others at her school wore black armbands at school to protest the Vietnam War.
When she was suspended for these actions, she sued her school district. Tinker won the case Tinker v. Des Moines, and secured rights for students to express themselves under the First Amendment at school.
Now she and Hiestand are traveling in their Bigfoot RV across the country to talk to young people about the First Amendment and issues related to student expression.
Visiting schools all across the United States, they have been speaking to students about what they are able to do.
One of these visits was to Kent State University in Ohio.
Story continues below advertisement
Mark Goodman, Professor and Knight Chair in Scholastic Journalism at Kent State University said, "I actually had the Tinker Tour Bus parked in my driveway."
Goodman said, "What is so crucial about the [Tinker Tour] is that it teaches students that they can have an opinion.  Mary Beth Tinker's story is a great example about how young people can change the world forever."
Students and expression
The focal point of the Tinker tour, according to Tinker and Hiestand, is encouraging students to stand up for what they believe in.
Hiestand said that for students to take action, they must first know what rights they have.
"You have to understand what your rights are…just reminding students what their rights are [is our goal]," Hiestand said.
Under the Tinker decision, the Supreme Court ruled, "Students do not shed their constitutional rights at the schoolhouse gate."
Tinker said that the rights students are entitled to under the First Amendment – freedom of speech, religion, of the press, to assemble and to petition the government – are all rights that students were ruled that she was entitled to.
"I want to encourage student voices and let you know that you're not alone. We want to encourage student voices, student action and also collect stories from young people about how they're standing up for what they believe in," Tinker said.
Tinker shows her passion for the issue by the inspiration in her voice and the gleam in her eye as she talks to students. She said she has been incredibly impressed by the students she has met.
"So many students are excited about standing up about different things. Some students are talking about standardized testing…gay straight alliance…climate issues…homeless projects. They're taking a stand for what they believe in," Tinker said.
Some administrators have questioned the need for student journalism and student expression in school.
Emily Jorgensen, journalism adviser in Chesterfield, Missouri said that both of these are crucial to student development.
Jorgensen said, "I think it's extremely important for students because otherwise students have the ability to think freely and clearly with much depth."
What Hiestand, Tinker and others all echoed is that the change comes from young people who rise up.
"Change occurs with young people. If change is to happen, and lord knows we need change, it has to start with [young people]," Hiestand said.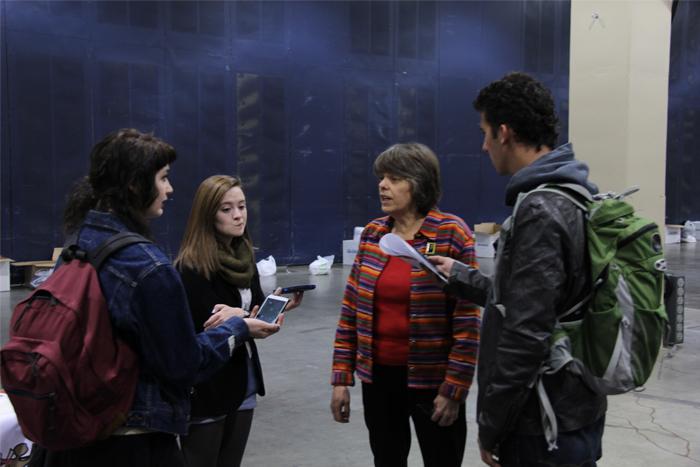 Free speech in the digital age
Hiestand and Tinker both revealed that the revolution in new technology has led to a revolution in the opportunities for students to express themselves.
"When you combine [students' First Amendment rights] with all these amazing free speech tools that are available in the palm of your hand, think of what you can do with those. It's a pretty powerful combination," Hiestand said.
The popularity of social media and digital tools among young people has created a wide range of student expression issues.
This has been seen in recent issues at MTHS, such as last year's 'MTHS Confessions.' The anonymous Twitter account, where students sent direct messages via Twitter that contained messages considered hurtful to many students, were 'Tweeted' for all to see.
The account was shut down, but some initially believed they were not subject to punishment for tweeting.
SEE: Twitter account causes hurt feelings, controversy
Tinker said that these kinds of speech, considered hate speech, are one of the few types of speech not protected by her famous case.
Many stressed that with free speech comes the responsibility and consequences of misusing those rights.
Hiestand said students need to understand, "how to use [their] rights respectfully and effectively."
 The Hazelwood Case
Following the Tinker decision, a different student rights issue case took a different stand on the issue of student expression. This was the Hazelwood Case (Hazelwood v. Kuhlmeier).
Many advocates of student expression despise the ruling in the Hazelwood case, which allows more opportunities for censorship to take place in schools.
"We hate Hazelwood. It was the wrong decision," Hiestand said.
"Hazelwood is not about valuing students' voices, it's about fearing students' voices," he said.
In several states, so-called "anti-Hazelwood" legislation has been passed, making the Tinker standard, again, the law of the land.
Such legislation was proposed in Washington, but was not made into law.
As another aspect of the Tinker Tour, Hiestand and Tinker hope to raise awareness about the Hazelwood decision and its impact on student expression.
The "Cure Hazelwood" campaign has been created, as an attempt to raise awareness about the decision.
The Tinker Tour's next destination

Hiestand said they recently recieved enough funds via donations and sponsors to continue their trip to the west coast. To donate to their trip, click here.
Join the Tinker Tour Conversation. Tweet using the hashtag "#TinkerTour"