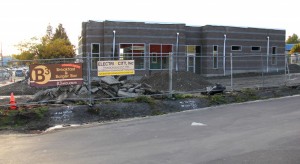 The Local Yolk Café is finally making a comeback after a fire which left many people wondering whether the breakfast and brunch restaurant would ever reopen.
Located at 4027 19th St. SW in Lynnwood, the new restaurant will now take on the name of B3, meaning Breakfast and Burger Bar. Once they open, they will serve not only their traditional breakfast menu, but also new dinner options.
"We will still be serving our traditional breakfast that we've served for many many years, but we want to now open for dinner with an exciting new gourmet burger menu," according to B3's website.
The fire occurred on Aug. 28, 2012, when it was believed that combustibles were stored too close to a water heater. This caused damage to the whole restaurant, and the entire building had to be torn down.
Story continues below advertisement
"After 11 months of much anticipation and a little anxiety, construction is underway on the new building and we are expecting to open the doors sometime in December," according B3's website.
Recently, over a year after the fire, the owners of the Local Yolk announced that the restaurant will be having a major change in its name and its menu.
The restaurant will no longer close before 3 p.m. Instead, it will remain open from 7 a.m. to 10 p.m. every day of the week.
Photo by Joshua Morrison | The Hawkeye