Broken tibia won't break Munnis
By TK Johnson
October 9, 2013
To be blunt about it, on Sep. 20, sophomore linebacker Tanner Munnis broke his tibia. He is out for the rest of the 2013 season.
"I was lined up pretty deep, and they ran the ball up the middle to my side. Me and Brett [Potter] went for the runner. [Potter] got there first and his legs sort of swung around and caught mine while it was holding my weight. I felt the snap and everything right away," said Munnis.
"I think it was my brother [senior Toby Munnis] that asked about [my leg] and right away I said it's broken. I squeezed it with my hands right away and could feel it [the tibia] off to the side," Munnis said.
"He's had an excellent three games his sophomore year, played every down on defense," Head Coach Tony Umayam said.
This was Munnis' first immobilizing injury from football.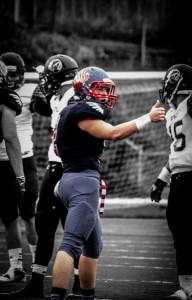 "I've broken most of my fingers playing football growing up but nothing serious, nothing that kept me out of games." He did however fracture his foot in seventh grade basketball.
When asked how school is going Munnis said, "I missed a week of school, so it's a lot to make up.
"Using the wheelchair helps a lot cause I don't really have to be in pain," Munnis said.
Tanner has an older brother, Toby. They have their normal brother fights, but when it comes down to it, they are brothers. The game against Lynnwood, where Tanner got hurt, was the last high school they will ever play together.
"It sucks that [in] our whole lives, I only got to play 2 and a half games with him [Toby]. Sucks that I couldn't finish the season with all my brothers," Tanner Munnis said.
Even though that now we are at the halfway point of the season, Tanner is looking forward to next season, looking forward to playing again.
"Playing has been on my mind since I had to watch the Glacier Peak game from the stands," Tanner Munnis said.
He will also be with the men's basketball team, where he will most supporting the team from the sidelines for most, if not the whole season.
Next year, Munnis will be a huge factor on offense and defense with a good portion of the teams starting lineup graduating this year.
"I got a lot of playing time for a sophomore in the last two games at linebacker. It gave me a feel for how it's gonna be next year, when I can be a full time player," Munnis said.
He would like to give a big thanks to everyone who visited him and/or helped him through his injury.