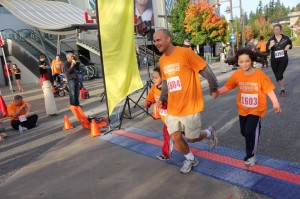 Over 700 people participated in the Celebrate Schools 5K Fun Run on Oct. 5, raising $40,000 for the Edmonds School District.
Of the 33 schools in the district, 31 were being represented by runners. With the largest turnout in the event's history, event coordinators ran out of event t-shirts.
"I was so inspired by the number of students, parents and faculty from each school," Edmonds Public Schools Foundation Executive Director Deborah Anderson said.
"The number of people that came the day of to register was unanticipated. That was a really incredible surprise."
This year, the Celebrate Schools 5K run was organized differently than in the past. The Edmonds Public Schools Foundation is going to donate half of the net proceeds to participating schools that had 20 or more supporters registered to race. With the remaining money, the foundation can fund school grants and after school study programs.
The event raised around $40,000, not accounting for expenses. Next year, the foundation is going to work on taking pledges to raise more money for the cause, according to Anderson.
"Our goal is to support every student and give students from 5th grade through graduation a leg up so they can have as many choices as possible upon graduation," Anderson said.
Behind the scenes of the entire event was a partnership between the Edmonds Public Schools Foundation, Alderwood Mall and General Growth Properties. In addition, the event was sponsored by multiple businesses including the Lynnwood Bowl and Skate, Jersey Mike's Subs and Walgreens.
Story and photos by Paxtyn Merten
Story continues below advertisement