In this first edition of our new weekly staff profile, the Staff Diaries, we ask Spanish teacher Andrea Collins about her life, both professional and personal.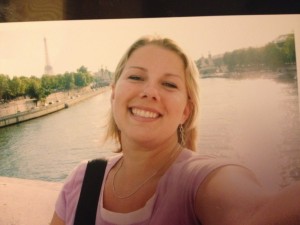 When you were a child, what job did you want to have when you grew up?    Early childhood it was animal science/veterinary medicine. Middle school and early high school was to become a pilot.
What are you most proud of in your career? Accomplishing all of the tasks I need to be a successful teacher but still having fun while teaching and learning.
What is your biggest teaching regret? None…I enjoy my job so far.
What is the most difficult thing about being a teacher? Balancing home life and still being involved with all things Terrace.
Favorite movie of all time? Spies Like Us! Yes its from the 80's and it also one of my favorite actors Chevy Chase.
If all the words in the world were going to be destroyed except for five, which five words would you keep? Kindness, patience, dedication, love, acceptance.
Name 3 songs on your iPod? 1) Comin' Home by City in Colour (a Canadian more popular than Justin Bieber!) 2) Kamalani by Israel Kamakawiwo'ole (this helps my son fall asleep for nap time) 3) Where Dragons Dwell by Gojira (yes I listen to metal haha).
Which living person do you most admire?  My father.
Story continues below advertisement
What is your favorite work trip you have ever taken?  2004 when I taught at Meadowdale HS – a mini European tour to Italy, France and England.
What is your favorite hobby? Gardening.
Which words or phrases do you most over use? While teaching….¡Hola, hola, hola! Or "working hard or hardly working" at home "turn your listener ears on Mason" helping our three year old son to become a better listener.
What is your greatest fear? Apparently since becoming a mom…I have a huge fear of heights! Odd since I was a skier and then snowboarder riding on chair lifts since I was 7 years old.
What is your most treasured possession? My wedding ring
What is the quality you admire most in a person? Honesty.
What is the quality you admire least in your competitors? Dishonesty.
Who are your heroes? My husband, my parents and my grandfather.
If you could have lunch with anyone, living or dead, who would it be? Nelson Mandela….I studied his apartheid issues and his role in the ANC in South Africa while doing undergraduate work at Western Washington University.
What is best about your teaching style? Open door policy…students from all different types of backgrounds I think feel comfortable enough to talk to me when needed.
What is your motto? Work hard so you can play hard.
Who are your favorite writers? JK Rowling (yes I read the entire Potter series in English and Spanish) and Robert Ludlum (the Bourne series).
What is it you most dislike? Dishonesty.
Your perfect meal? Hmmmmm……I have perfect or favorite cuisines…anything Mexican, East Indian (I love curry) and American Classics.
How will you now when it's time to retire? When I realize that work in no longer any fun.
Do you know a staff member who should be featured? Send an email to [email protected]