Hawks suffer first loss, 4-0 against Scots
By TK Johnson
September 25, 2013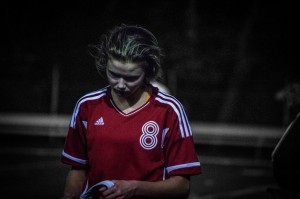 Tuesday night, the Mountlake Terrace Hawks women's soccer team suffered its first lost, 4-0 against the Shorecrest Scots at Shoreline Stadium.
The first half was a little different this time. With 3:30 left, the Scots scored to make it 1-0. That is the first goals in the first half the Hawks have allowed this season.
Shortly into the second half, the Scots got lucky when the ball sneaked in when goalkeeper Amanda Aversano wasn't ready.
The ball was flying everywhere during the game. Neither team could maintain possession for that long.
"We need to work on possessing the ball, not letting it get in the air, that's when we lose the ball," coach Evan Hatch said.
The Scots would then get the corner kick on point to be knocked into the net where Aversano couldn't get.
The game wasn't all that bad for the Hawks. The offense worked together pretty decent and made great passes, only to be stopped near the goal.
With three minutes left, the Scots would knock in another heartbreaking goal, to seal the shutout win.
"We have to make the most of it and improve on what we can for Thursday and the rest of the season." Hatch said.
"This is the first time we have played a team that's been that physical, we need to be able to respond to that style of play," Hatch said.
The Hawks are now 4-1 for the season.
The next game is 7:30 p.m. Thursday, Sep. 26 against Marysville-Getchell at Lynnwood High School.