Hawks dethrone the Royals 30-14, pick up first win of season
By TK Johnson
September 21, 2013
Friday night was "Jam the Stands" night at Edmonds stadium. Game 1 was the Mountlake Terrace Hawks football team took on the Lynnwood Royals.
The game started off a little different, the Hawks were playing with two different quarterbacks. Justin Hopkins was back to play your typical quarterback and then every once in a while, Austin Bates would step in and play the wildcat. Bates would almost always keep the ball and run.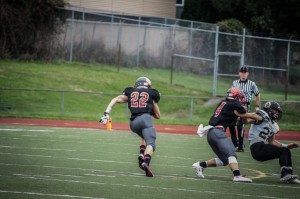 Towards the end of the first quarter, Ryan LaCasse scored the first points of the game making it 7-0 going into the 2nd quarter.
LaCasse would then get an interception a few plays later.
That wasn't the only turnover the game as Hopkins threw his own pick a few minutes later.
Even with that interception, Hopkins showed clear improvement despite it being only his second start of the season. He looked good, completed passes, and didn't make too many mistakes.
"It's good to have Justin back, he's not at full strength, but he's getting there. To have the guy who is your quarterback [playing], it settles things nicely," head coach Tony Umayam said.
After a Toby Munnis fumble recovery, which was forced by James Poellinger, senior running back Chance Ragsdale scored his first touchdown of the night.
Before the half, sophomore linebacker Tanner Munnis was injured. According to coach Umayum after the game, Munnis was taken to Harbor View Medical Center in Seattle and was expected to have surgery on what Tanner reported on Twitter to be a broken tibia.
At the start of the 3rd quarter, Ragsdale started off right where he left off, quickly scoring to give the Hawks a 21-0 lead.
Lynnwood would answer back at the end of the third quarter with a score of their own, and then have the PAT blocked by Terrace.
With 1:51 left in the 4th, Ragsdale would cap off his night with another touchdown to give him three on the night to go along with 181 yards rushing.
Hopkins would kneel out the clock after another Royals fumble.
The Hawks won with a final score of 30-14.
"Lynnwood gave a much better effort than last year, they played hard," Umayam said.
"We challenged the offensive line. A lot of our running game is on their backs. Ragsdale had a nice game," Umayam said.
The Hawks are now 1-2 on the season. Their next game is Friday, Sept. 27 at Glacier Peak in the first league game.
Photo by TK Johnson.