Mountlake Terrace job fair
Potential employees met with many local employers on May 15 at the very first MLT Job Fair.
The job fair, organized by the Mountlake Terrace Business Association (MLTBA), ran from 11 a.m. to 7 p.m. at the Mountlake Terrace Library.
The flagship job fair was created to "help businesses find potential employees and for the community to get their resumes out to the local businesses that are hiring," according to MLTBA President Ayesha Sheik.
The MLTBA wants local business to get out and interact with citizens seeking employment.
Also, attendees who are looking for a job were able to ask employers questions that they might have about the process of looking for a job, from applications to interviews.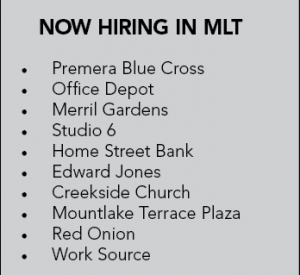 Sheik, who is also the General Manager at Studio 6 Hotel, said the job fair was created for the purpose of lowering the unemployment rate in Mountlake Terrace.
Many local businesses were present at the job fair, including Homestreet bank, Red Onion, Edward Jones, Premera, Office Depot, Studio 6, Merrill Gardens, Creekside Church and Worksource.
High school students were encouraged to attend the job fair and apply for a job if they want. They can apply for any of the jobs there.
"Students are the workforce for tomorrow, so  I encourage all students to apply with all the employers that will be there. You never know when a job can turn into a career," Sheik said.
Local burger joint Red Onion was one of the many businesses which participated in the job fair. Red Onion Owner Seaun Richards said he needs more help running his business.
Richards is reopening his old Red Onion which had burnt down.
"I need more employers for the new Red Onion which is currently running, and 10 more for the old one that I am reopening," Richards said.
With four teens already working at the Red Onion, applicants to the Red Onion must only be 16 years or older.
Another business which was looking to possibly hire teens is Office Depot. The office supply chain's MLT location is looking to hire one or two employees, which also must be at least 16 years old.
Right in time for summer job hunting, the job fair offers countless opportunities for all people to seek employment from businesses close to home.