Force feeding turns to teenage wasteland
School lunch has always come with a bad reputation. Cafeteria food has been portrayed by the media as including everything from 'mystery meat' to lumpy milk.
At MTHS, many students think overall the school food is at a fairly high quality. What many students are not pleased about are the policies that require students to take certain types of food with them whether they want it or not.
Under the new school lunch guidelines created by the Obama administration, schools have to require certain things to be placed on those famous trays.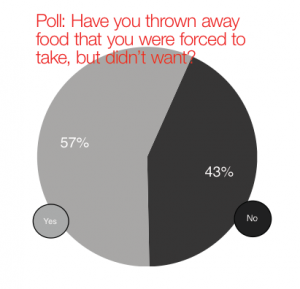 "There are five components that the lunch is made up of," MTHS cashier Renee Pierce said.
"For the food services to get reimbursed [by the federal government], the students have to pick three out of the five components for it to be considered a reimbursable meal," Pierce said.
These five components are a protein (meat or meat substitute), bread or grain, a fruit, a vegetable, and milk.
"It has to be a combination of three of the five different things," Pierce said.
Each component included has to be a full serving of the item, according to set serving sizes for appropriate age groups.
Many students dislike these policies. Students are required to have at least three components, regardless of if they are planning to eat them or not.
Unfortunately, many students still end up throwing away food that they were required to take.
In a poll conducted by the Hawkeye, nearly 57 percent of students admitted to throwing away food they were forced to take, but did not want.
Pierce, calling these actions "wasteful," said that there are alternatives to just throwing away the food that students are required to take.
"There's a metal cart where kids could put the things they don't want. And then someone who maybe can't afford to pay for something [would be able] to take it," Pierce said.
Many students at MTHS rely on school meals as a main source of nutrition.  During the 2011-2012 school year, 30.3 percent of the student body or 371 students were on free or reduced lunch. That percentage is far greater than the 14.6 percent of the student body on free or reduced lunch in the 2000-2001 school year.
"I eat school lunches about every day. I personally don't like school lunches anymore. I feel like the quality of the food isn't as good as it used to be, but maybe that's just because I've eaten school lunches for 13 years," senior Tin Ho said.
Over the past few years, school lunches have seen a price increase in order to subsidize rising costs of food service. This has resulted in some students bringing their own homemade lunches. Homemade lunches give students the choice of selecting the food that they want to eat, rather than food that is required by the school lunch program.
While governmental budgets are continually being pinched, school lunches deserve to be revitalized. Breakfast might be the most important meal of the day, but lunch, especially school lunches, are equally important.
Although students might not want everything they must put on their trays, the trash isn't where it has to end up.