Transporting Security Administration (TSA) allows knives on planes
On April 25, the Transporting Security Administration (TSA) will begin allowing travelers carry small knives on planes. Blades will have to be shorter than 6 cm and a width less than half an inch. TSA will also permit sports equipment such as billiard cues, ski poles, hockey sticks, lacrosse sticks, two golf clubs, souvenir/novelty items, and toy baseball bats with them on board planes.
This will be the first time since the 9/11 terror attacks that knives will be allowed on planes, which has obviously sparked some protest. Don't worry though, you still can't bring swords, firearms and military grade plastic explosive. TSA is relaxing the rules on small knives because they say that they need to "focus on higher threats items such as explosives." Knives are a threat, but it will be much harder for one man with a knife to bring a plane down, rather than a man with four pounds of C4 stuffed into his carry on.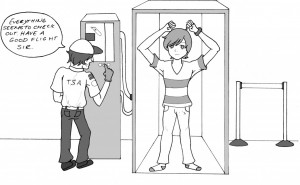 TSA also believes that due to the size of said knives, it is "unlikely to result in catastrophic destruction of an aircraft." Mainly because a pocket knife won't even cut through plywood, and also because cockpit doors are incredibly secure. Also, air marshals and crew members have some self-defense training. If someone manages to takeover a plane with a swiss army knife, then I fear for America's ability to protect itself at all.
TSA with this new change will help align itself with international standards. This new change is great because many Americans already carry small knives, and it will dramatically speed up airport lines. How many times has the line been held up because someone forgot to check their pocket knife with the rest of their luggage? After about thirty minutes of backup, while they pat him down for assault rifles, bombs and other threats such as "terrifying" pocket knives, you start to question the validity of the panic. No longer will TSA officers have to confiscate the hundreds of thousands of knives they see each year anymore. With about 2000 knives confiscated every day, and 1.7 million people going through the 455 airports across the country, it will speed up lines for a small risk.
This change will bring us more up to date with the international standards making it more convenient for international travelers. Some flight attendances say that it will be more risky for them if the passengers are allowed to have knives. They believe that it is a slippery slope and that once we start letting knives on planes what will be next, guns? These are valid points, but the issue has been carefully thought through by the TSA. The knives allowed on planes are small. Even with little or no self-defense training, one could easily defend oneself from a hypothetical attack. Let's be realistic, to kill someone with a pocket knife takes real skill. As for the fear of letting guns on planes, the TSA is not that stupid.
Though they make airports horrible, they wouldn't be doing their job if they let firearms on planes. With the current scrutiny guns are under now anyway, it would be organizational suicide to allow guns on aircraft. Allowing knives on planes is not a start to have no airport security in America, only a smarter security. America's TSA has one of the most restrictive policies about things you can carry on. Relaxing the restrictions on knives of this size on planes would just be helping everyone want to commit suicide less while using airline security.