Make it an Edmonds kind of day
By Will Khadivi
March 17, 2013
Growing up in the suburbs and being surrounded by shopping malls, cul-de-sacs and lots of cars, it's easy to yearn for that small town American life that seemed to disappear long ago. Well, it still exists and it's in Edmonds. Located just west of Mountlake Terrace, and perfectly framed by the Olympic Mountain range and restless waters of the Puget Sound. Simply put, downtown Edmonds has everything for a perfect day.
Starting at what many consider the center of downtown, the fountain at Main Street & 5th Ave., one could enjoy a burrito at El Puerto Family Mexican Restaurant. After lunch, stop by for desert at the Edmonds Bakery half a block away.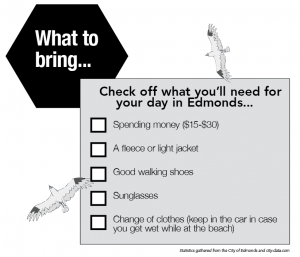 For those with guests visiting from out of town, Edmonds has several well-rated hotels with beautiful views of the Puget Sound, including the Best Western Harbor Inn and many cute and quirky bed and breakfasts.
Officially incorporated in 1890, Edmonds was originally a lumber town surrounded by forestland that was easily harvested. Long after all the virgin timber was harvested, Edmonds remains a beautiful place to work, play and live. Edmonds is the third most populous city in Snohomish County. However, it is well spread out among 18.42 square miles according to the United States Census Bureau.
Another cool thing to do is to see a show at the award-winning Edmonds Center for the Arts, whether it be a musical concert or comedy act. An excellent place to see a great play is the Driftwood Players Theatre on Main Street.
Later, one could go for a walk along the Edmonds beach, which has an amazing view. While at the beach, look for sea creatures such as seals and sea stars. On a warm day, go for a swim! The Edmonds-Kingston Ferry is a beautiful and relaxing ride that costs less than $7. Across the water, there is yet another lovely beach to explore.
Upon return to Edmonds, try Revelations, a self-serve frozen yogurt place that has many fro-yo flavors and options for toppings. This makes for a great snack on a sunny day in Edmonds.
After that, head over to the Edmonds Historical Museum, where it costs just $2 to learn about all the local history.
Another great element of Edmonds is all the local shops. The Edmonds Bookshop is definitely one of the last independent book stores that can be found. In this era of iPads and Kindles, it's refreshing to see this locally owned bookstore flourishing in this lively city.
Sound Styles boutique nearby also provides some up and coming fashion to downtown while Cline Jewelers is a nice place to gaze.
Even though some of these shops may be too pricey for a teen budget, it is still fun to browse through.
Another fun thing to do is ceramic painting at Glazed and Amazed. There are many things you can choose to paint that are priced reasonably.
Downtown Edmonds is a great and easy place to go for a walk and is served well by public transportation. In 2011, Edmonds Station opened just east of the ferry terminal. Since then, it has served as a center for the Sounder commuter and Amtrak train service for the region, as well as being served by Community Transit buses.
During the summer, farmers come from all over the Northwest to take part in a weekly farmers market in Edmonds. With fresh berries, eggs, meats, and other natural goodness, it's definitely another reason to visit.
Edmonds is also a great place for kids. Near the downtown fountain, a toy store called Teri's Toybox is a great place to bring kids and reminisce about the past. There is a nice candy shop called Nama's Candy Store very close to it.
For all the dogs around the community, an off-leash dog park on the beach is a great place to cool off.
Yet another exciting thing to do in Edmonds is ride a Segway. Segway riding is a more unique way to explore the area. Segway of Edmonds has the option to rent a Segway for one hour at the cost of $25. There are also tour options, which include the historical tour or VIP tour, $65 for 90 minutes, and the sunset tour, $55 for 90 minutes.
Located on Main St., the Edmonds Theatre is a great way to relax after a long day of fun. This historical theatre runs the latest blockbuster movies at a cheaper price than the mega-theaters.
During the summertime, this area is home to many celebrations, including the Edmonds Arts Festival, An Edmonds Kind of 4th, Edmonds' Independence Day celebration and the best fireworks show in the area.
Edmonds is a nearby place for a quick, beautiful, low priced getaway any time of the year.