Editor's Note: Freshman Maxine Taylor traveled to Utah to attend the United States National Amateur Dancesport Championships from March 6 – 9 at the Marriott Activity Center on the BYU Campus in Provo. Prior to leaving, Taylor agreed to serve as a contributing reporter for the Hawkeye and our readers, giving us her personal perspective and experiences at this highly regarded competition. This is her personal account of her amazing experience and two photos of her and her dance partner, Scott Nicholson.
By Maxine Taylor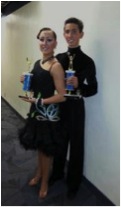 Working up to this point has been very difficult, considering my dance partner lives in Oregon. I met Scott only about 6 months ago. We started dancing about 2 weeks after that. The first month or so was very difficult to get used to him. The difference in body types was very drastic. And I know whoever is reading this may say, "Oh, it doesn't matter about the type of body you dance with." But it does, it makes a huge difference. The partner I had before was more bulky and was about 5'10″. Scott is 6' and is very slim.  I am 5'8″ or so and, dance-wise, bigger than most girls. The way Scott and I dance, allows our body types to complement each other.
When preparing for Utah, we didn't know what to expect because we have such a new relationship. We simply did not know who we were up against. Once we got there we still didn't know how it would go. Everyone was telling us we could make it to the final. The first event we danced in was Youth Pre-championship Latin. There were about 60 couples in that event! (That's a lot!) It was the National Championships and considering everything that happened we did very well. We made it into the quarter-final. We could have made it into the semi-final but it is still great to get that kind of result within six months!
Our second event was High School Syllabus Standard. There were about 120 couples. (Now that's a huge amount!) In this event the competitors could only wear a white leotard, white button up shirt, black tie, black pants, and/or black skirt. No jewelry at all and no sparkles. Other than all those restrictions we were happy with how everything went. We ended up winning against all those couples! It was an amazing feeling. (All the couples who were in the final were from Washington!) Afterward we went out and celebrated!
Our last event we danced in was Adult Novice Latin. We were able to wear different things and we could wear jewelry and sparkles. In this event there were about 60 couples. When we are dancing, we can't watch the other competitors, so we don't know what to expect. There are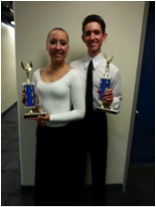 about 15 couples on the floor at a time. Once we made it to the final, we didn't care what place we got. When they called us out for Awards They called 6th and it wasn't us. They called 5th and it wasn't us. They came to 3rd and it still wasn't us. Before they called the 2nd Place couple we congratulated our fellow competitors. They called 2nd and it still wasn't us! I gave Scott a hug and then they called us for first place and we bowed to the audience and went up to receive our trophies and take a picture! We were so happy because we have been working weekends only, and to get this was just amazing! We were both VERY happy and excited for our future together as a dance couple.
We are now both working toward the next National Championships in April. Work and trust has been what got us those titles. Scott and I are not dating and do not plan on that being in our future. I am a freshman and Scott is a sophomore at West Linn High School in Oregon. Our age difference does not bother us because when you're a dancer, age does not matter as much.
Story continues below advertisement