In the empty building which was once occupied by Melt Waffle & Frozen Yogurt, a new business by the name of Splash Nail Bar opened on December 15, 2012. The bright, colorful nail bar is no standard nail salon.
Splash Nail Bar is unique because its set up is like a bar where they tend to people's fingernails, as opposed to having individual manicure tables.
The owners, Molly Burdeen and Misha Perritt, designed it that way so that groups can get their nails done together instead of sitting alone. To add to the experience, customers get refreshments like water, sparkling water, and Diet Coke with their service. Burdeen explained, "The whole idea for the bar is that it's a place to get together and be collaborative and talk."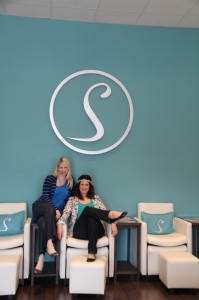 However, the nail bar is also flexible to people who just want to sit back, relax and zone out. A TV located in the manicure area plays fashion shows for customers. Burdeen and Perritt thought that watching fashion would be a great alternative to news or football, especially for the atmosphere being created.
"It also goes with our whole idea of tying to be fashion forward and trying to have an environment you can fully enjoy," as Burdeen put it.
The bar and fashion shows are not the only things that set Splash Nail Bar apart from most other nail salons. Instead of using jetted tubs for pedicures, the chairs have pull-out shelves that are able to hold large, silver bowls which get filled with water for foot care. The bowls are washed after each use and they contribute atmosphere of the place, making it more modern and unique.
As the seasons change, Splash Nail Bar is planning on changing with them. In fact, every month the owners want to theme a pedicure around a central holiday or event specific to that month.
During the entire month of February, to correlate with Valentine's Day, the "Chocolate Pedicure" is being offered to customers, which involves a nail artist using a chocolate mousse product that looks like the real thing.
Also, a St. Patrick's Day theme is set for March and "Champagne and Roses Pedicure" for Mother's Day in May.
Story continues below advertisement
Not only are nail services provided at the nail bar, but there are also waxing services available in the "Chocolate Wax Room," where the wax they used looks and smells just like chocolate.
Nail salons are not all that common in Mountlake Terrace, which according to Burdeen, was one of the reasons for choosing the location.
"[Mountlake Terrace] really needed a nice nail bar, because there really wasn't one in the area," she said.
Both owners agreed that their customer service is the best part of their business. Perritt said, "We want to ensure that [our customers] have a really good and consistent experience. We make sure that all of our staff is very consistent with their service so that every time a client comes back, they get the same exact service every time and they know what to expect."
Staff member Brittany Barbosa said, "We all got a fresh start together because it was all brand new. There wasn't a whole bunch of people before, so I didn't have to just go into [the business] and follow everyone else's rules."
"We've only been open for six weeks, so it's been very rewarding to have a business, but I think it'll be even more rewarding the longer that we're open and the more clients we get," Perritt said. "It's very rewarding just to have accomplished this."