The closing of Lake Ballinger Golf Course left the city with a 42 acre 'passive park' and the MTHS golf team without a home course. MTHS Golf Coach Tom Gorney said he expects it to "hurt the program."
Jan. 7 was a sad day for local golfers when the Mountlake Terrace City Council voted 6-1 to convert the former 9-hole golf course into a 'passive park.'
This decision has had a direct impact here at MTHS. Lake Ballinger Golf Course was the home course of the MTHS men's and women's golf teams. Now, they are approaching the spring season without access to their home course.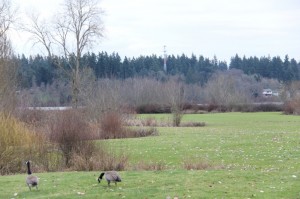 The solution that Coach Gorney has found is one that requires the MTHS golf teams to "take what's left."
The MTHS golf teams will mainly be playing at the Nile Golf Course this season.
"I was able to get a hold of the people at Nile Golf Course. We will be playing our home matches there, and the majority of our practices will be there," Gorney said.
Gorney plans to increase practice time by venturing to Snohomish Golf Course and possibly another golf course once a week.
Nile Golf Course has several teams practicing there already, so the MTHS golf team will not have full, unlimited access like they had at Lake Ballinger.
The course was somewhat infamous for poor conditions and was not a first choice for many golfers. Poor drainage, a large geese problem, and other undesirable conditions were some of the problems that the golf course faced.
Story continues below advertisement
Sophomore Drew Williams, a member of the MTHS golf team, said the course, "has seen better days."
Sydella Yonker, also a sophomore golfer, described the golf course as often being, "swampy," and complained that it caused her to often lose many golf balls.
Hardy Golf LLC owner Tyrone Hardy said that they didn't always feel like they received enough support from the city in dealing with the problems they faced managing the course.
"Hardy Golf LLC inherited these problems from the beginning, they were not a result of our management," Hardy said.
The decision comes after a long series of several plans and discussions about the park. City of Mountlake Terrace Parks and Recreation Director Don Sarcletti described a passive park as "generally undeveloped space or environmental sensitive area that provides minimal development."
"The council's decision was one of a number of options that we presented to the council," Sarcletti said. Ultimately, the 'passive park' decision triumphed.
"Passive recreation usually emphasizes the open-space aspect of a park and allows for the preservation of natural habitat and typically includes park features and amenities, such as picnic areas, benches, trails and interpretative signage," Sarcletti said.
The work on deciding the golf course's future comes after Nov. 2012, when the operators Hardy Golf LLC left the golf course due to financial problems.
Gorney was aware of these fiscal issues the golf course was facing and said he "wasn't very surprised."
Hardy described the decision as "hardest decision we ever had to make. But, it was necessary."
Sarcletti also recognized these problems, saying, "Hardy Golf LLC was in charge by lease agreement to maintain the golf course. You know they did the best they could, given the financial situation that they were facing."
City Councilman Doug McCardle was the only city council member to vote 'no' to turn the course into a passive park. McCardle cited the reason that Hardy Golf LLC was contractually obligated to continue managing the golf course until Dec. 31, 2015. According to Sarcletti, the transition of Lake Ballinger from a golf course to a passive park will begin this year.