Wrestlers drop a heartbreaker to T-Birds
By Luke Luttrell
January 11, 2013
The Hawks wrestling team lost a hard fought match against the Shorewood Thunderbirds 42-36 Thursday night in the Terraceum.
Heading into the last matchup, the teams were tied at 36 after Kevin Massey pinned his opponent, Dawda Dibba, with five seconds left in the final round.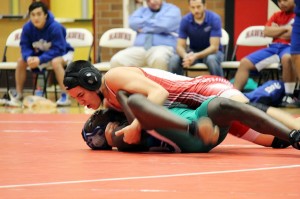 The WesCo 3A South matchup came down to the Hawks' Shawn Poole and Shorewood's Braden Kalloway in the 152 pound weight class when Kalloway pinned Poole with two seconds left in the first round to end the match.
In other key matchups, Taron Castleton faced Matthew Floresca, Shorewood's 132 pound phenom who is ranked No. 1 in the state at his weight class. Castleton battled well, but fell in a major decision 13-3. Overall, the Hawks had six wins, with four pins and two wins coming as forfeits by Shorewood.
Terrace is 3-6 and 1-1 in league. Shorewood is 7-5, 1-1.
The Hawks finish out their home matches next week when they host Meadowdale at 7 p.m. Thursday, Jan. 17 in the Terraceum. It will be senior night as well.
At the Terraceum:
106 – Trung Bahn forfeit;
113 – Robel Tesfamarian (SW) forfeit;
120 – Tyler Hetherington pinned Abiel Tesfamarian (SW);
126 – Edom Tesfaye (SW) pinned Marquetta Johnson;
132 – Matthew Floresca (SW) major decision over Taron Castleton 13-3;
138 – Rikio Campbell (SW) decision over Daniil Oliferovskiy;
145 – Kevin Massey pinned Dawda Dibba (SW);
152 – Braden Kalloway (SW) pinned Shawn Poole;
160 – Sam Jang (SW) pinned Theodor Alexander;
170 – Syd Springberg pinned Andrew Chun (SW);
182 – Konnor Carpenter (SW) technical fall over Timmy Zuehl 17-2;
195 – Brett Potter forfeit;
220 – Ben Avila (SW) pin Jazz Borromeo;
285 – Kaleb Davis pinned Japhet Valladeres (SW).