The Winter stars
Greg Bowman 
Junior | Men's Basketball
Scoring 71 points in four games to open the season, including 22 points and 17 rebounds in the season opener against Edmonds-Woodway, Bowman has established himself as one of the most dominant players in all of WesCo.
He also added 10 and 17 points against Lynnwood and Meadowdale in very limited playtime and averaging 17.8 points per game, third in WesCo 3A.
Standing at a towering 6'7", Bowman is one of the tallest players in the WesCo 3A South conference.
Unlike most towering posts, he easily runs the court lmost as if he was a guard.
Bowman has always made his presence known in the post, routinely blocking shots by opponents.
After finding moderate success last season with teammates Ryan Shannon and Coby Russell, Bowman is ready to make a name for himself this year in just his junior season.
Samantha Romanowski 
Sophomore | Women's Basketball
Putting up 25 points in the season opener against Sultan, sophomore Samantha Romanowksi set the tone for one of the best season openers in the league.
Reaching double digits in every single one of her first four games of the season, Romanowksi has dominated every opponent the Lady Hawks have faced.
With 16.5 points per game, she's the fourth leading scorer in WesCo 3A and is averaging over a quarter of the entire Hawks' team points.
After making varsity her freshman year, Romanowski's potential is through the roof.
On the defensive end of the court, Romanowski has suppressed opposing leading scorers, putting up several lockdown performances, including one against Natalie Kasper of Edmonds-Wooway.
After a solid freshman season, she is having a breakout start as one of the best athletes in her conference, and a troublemaker for the opponents that stand in her way.
Trung Banh 
Senior | Wrestling
Already opening the year with two pins, one victory by points decision and one forfeit, Trung Banh is already ready to follow up his state run last year with an even bigger one this year.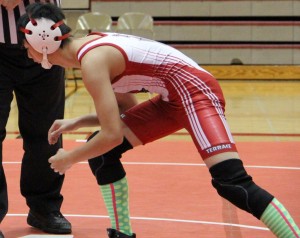 Banh, who wrestles in the 106 pound weight class, has crushed nearly every opponent he has faced in the last couple of years.
This year he has yet to lose a match, including in the Edmonds-Woodway Invitational where Banh took first place in the 106 weight class in a tournament with 16 man bracket.
The team also finished in fifth place out of 16 schools in the surrounding the Puget Sound area
Keep a close eye on Banh and his road to making it to the state tournament yet again.